DJ Envy Defends 50 Cent After Benzino Threatens Legal Action
DJ Envy has defended 50 Cent after Benzino threatened to sue him. 50 has been trolling Benzino over his affiliation with a trans woman.
"I don't know what he would sue 50 for," Envy told TMZ. "I mean, 50's my brother and I think everybody knows that, but I don't know why [Benzino] would sue. What is he suing 50 for?"
"I don't know what [Benzino's] love life is or his sex life is, but if it was public, I don't think you can sue somebody," Envy continued. "I don't know, you could sue anybody for anything in today's age. But I mean, good luck." 
50 Cent has been telling Benzino to come out of the closet and also suggested that Zino and former G Unit rapper Young Buck should start dating each other.
 "When I look at Fif, when I say he's my brother, you know when your brother can't do nothin' wrong, he can't do nothin' wrong in my book," Envy says.
See How Kourtney Kardashian Incorporated Travis Barker's Head Tattoos Into Her Wedding Veil – E! Online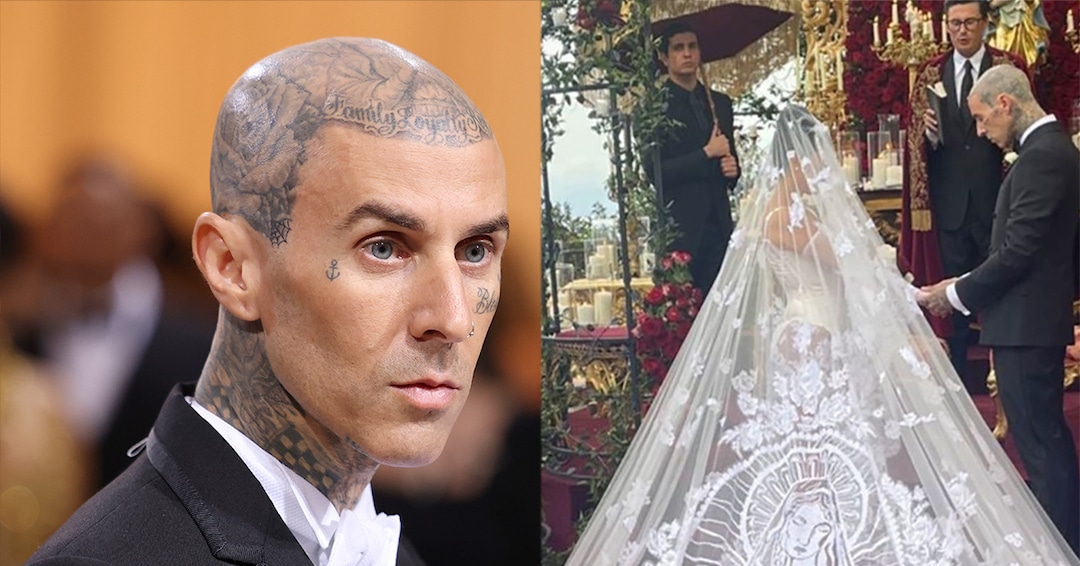 One day before the wedding ceremony, Kourtney donned another Dolce & Gabbana mini-dress, this time in black, featuring an emblem of the Virgin Mary on the front, which she accessorized with a short black veil with blue trim, long black gloves and strappy sandals. 
Kravis' European wedding weekend was a blended family affair with Kourtney's kids Mason Disick, 12, Penelope Disick, 9, and Reign Disick, 7, who she shares with ex Scott Disick, plus Travis' son Landon Barker, 18, daughter Alabama Barker, 16, who he shares with ex-wife Shanna Moakler, and his stepdaughter Atiana De La Hoya, 23, all in attendance.
Halsey Says Their Label Won't Let Them Release New Music Without A "Viral TikTok Moment"
If you're a Halsey fan, you already know that the singer-songwriter released their latest album, If I Can't Have Love, I Want Power, last year.
Halsey's already hard at work on new music, too — but according to them, it might be a minute or two until you actually get to listen to it.
"Basically, I have a song I love that I wanna release ASAP," they said in the video, "but my record label won't let me."
They also claimed that, despite being quite successful at this point in their career, the label told them that "I can't release it unless they can fake a viral moment on TikTok."
"Everything is marketing," they continued, pointing out that the music industry is "doing this to basically every artist these days."
"I just wanna release music, man," they concluded. "And I deserve better tbh. I'm tired."
In a follow-up TikTok captioned "I wish I was kidding lol," Halsey shared what appeared to be a conversation with someone on their team about a potential release schedule for the song. "I just hate this," they say to someone off-camera.
Hopefully, Halsey and their label can work things out and get the song released at some point soon. The music business, folks! It's not all it's cracked up to be, that is for sure.
Gwyneth Paltrow Reveals What She Thinks Of Kourtney Kardashian's 'Poosh' Vs. 'Goop'
Gwyneth Paltrow got candid on how she feels about Kourtney Kardashian starting a company that sounds a lot like her own. It all went down when the Oscar winner was asked if she was "upset" that Kourtney's POOSH "copied" her wellness brand GOOP during a fan Q&A via Instagram on Saturday, May 21. Instead of appearing indignant, Gwyneth took a surprising, yet inspiring, approach to answering the question.
"This idea that women need to be in competition is legacy patriarchy bullshit; there is room for EVERY woman to fulfill her dreams," the "Iron Man" actress wrote. "I used to fall prey to this kind of thinking years ago, so I understand where it comes from. Now, I get so happy when I see new wellness businesses."
"There is a place for all of us, plus @kourtneykardash is a really good person," she concluded, before adding one more amazing remark. "#KRAVISFOREVER," Gwyneth wrote, referencing Kourtney's romance with Blink-182 drummer Travis Barker. The adorable couple are currently in Italy, where they wed in front of family and friends during a lavish ceremony in Portofino. 
When Kourtney launched POOSH in 2018, it received pushback as the name was similar to GOOP and both entities are wellness brands promoting rather expensive products often backed by pseudo-science. GOOP, however, had almost a decade lead on POOSH, so it was inevitable that Kourtney's business model would be compared and criticized against it.
To further prove that there is no disharmony between Gwyneth and Kourtney, Travis showed off his own support of the GOOP brand during a recent video tour of his Calabasas home for Architectural Digest. While fans were given an inside look at his bedroom, GOOP's famous "This Smells Like My Orgasm" candle appeared to be sitting on the side table. However, the label read, "This Smells Like Kourtney's Orgasm," which was an obvious nod and tribute to the original!