Kim Kardashian may have been gifted a fake lock of Marilyn Monroe's hair, historian claims
Ripley's Believe It Or Not! might not have gifted Kim Kardashian an authentic lock of Marilyn Monroe's hair after all.
The museum supposedly gave the SKIMS founder, 41, the one-of-a-kind souvenir ahead of her Met Gala appearance, where she wore Monroe's iconic dress.
But now, a historian has cast doubt over the news, claiming the strands of hair are fake.
READ MORE: Nick Cave confirms son's death at age 31
"News Alert: Marilyn Monroe Hair Gifted to Kardashian by Ripley's is Fake," Monroe expert Scott Fortner wrote via Instagram.
"Who styled Marilyn's hair for the JFK gala: Robert Champion or Kenneth Battelle?"
Sharing a screenshot from the Ripley's website that showed a photo of another lock of Monroe's hair – displayed in Kardashian's Met Gala dressing room – Fortner explained Ripley's had originally stated the hair was cut from Monroe's head by hairstylist Robert Champion ahead of her Madison Square Garden performance for President John F. Kennedy's birthday on May 19, 1962.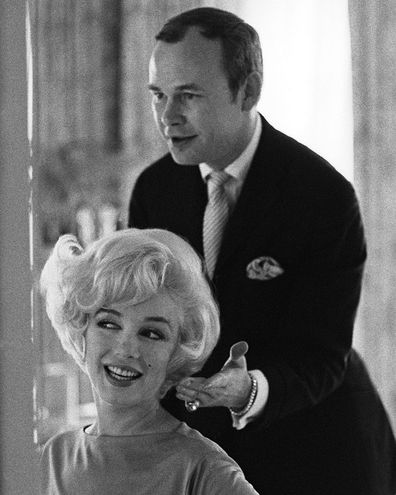 "News Flash: Robert Champion did not cut and style Marilyn's hair for the JFK gala," Fortner added. "It was actually the one and only 'Mr. Kenneth' (Kenneth Battelle) who had the honors. Battelle is responsible for Marilyn's famous hairstyle from that night, as documented by a receipt from Lilly Dache Beauty Salon."
READ MORE: How the Queen broke new ground in Australia and paved the way for future royal visits
Ripley's has since updated its original post, removing Champion's name.
However, in a statement to People, a rep for the Ripley's team has said the lock gifted to Kardashian was, in fact, authentic and not the same hair displayed in her dressing room.
READ MORE: How Minnie Driver almost lost Good Will Hunting role
"Ripley's exhibit collection contains six different samples of Marilyn Monroe's hair — all authenticated and truly Marilyn's," they said.
"The hair gifted to Kim was given by Marilyn Monroe to Robert Champion. This clipping was authenticated by John Reznikoff, one of the most respected and trusted experts in the field of hair collecting."
The Kardashians star has received mixed reviews about wearing the dress Monroe wore to sing 'Happy Birthday' to former US President John F. Kennedy in 1962. Fortner, who owns one of the world's largest private collections of the actress's personal property, slammed the move.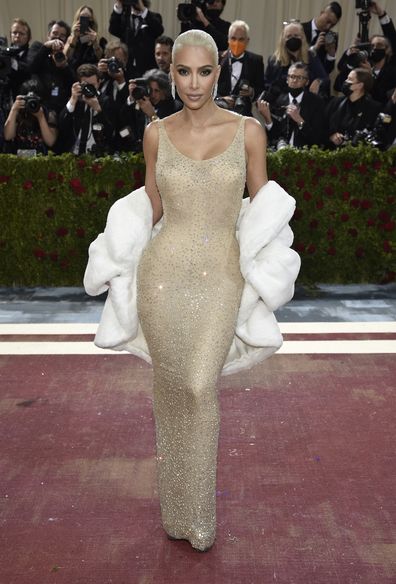 "There is no other gown that holds the significance of Marilyn Monroe's 'Happy Birthday Mr. President' dress," he wrote via Facebook.
"It is an artifact, a piece of our country's history, a representation of American pop culture without equal. It is a national treasure. It is globally recognized. It's the most expensive dress in the world. It was for Marilyn only. It was HER dress, worn on HER terms. It was a gown that was created only for HER."
Kardashian only wore the dress for a brief time, changing into a replica after posing on the red carpet at the Met Gala in May.
For a daily dose of 9Honey, subscribe to our newsletter here.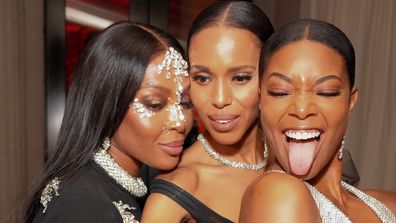 The hottest pics from inside the Met Gala
MGK! Huddy! Kourtney Kardashian and Travis Barker's Wedding Guests: Pics
The more the merrier! Kourtney Kardashian and Travis Barker had a tiny Las Vegas wedding followed by a California courthouse ceremony with two witnesses, but they went all out for their third wedding, inviting dozens of guests — including some familiar faces.
When the Barker, 46, and the Poosh founder, 43, exchanged vows in Portofino, Italy, on Sunday, May 22, they were joined by their favorite double-date partners, Machine Gun Kelly and Megan Fox. The "My Bloody Valentine" singer, 32, wore a blue leopard print suit for the occasion.
While Fox, 36, was spotted holding hands with her fiancé during the vow exchange, she was not by the "My Bloody Valentine" singer's side when boats escorted guests to the wedding reception. Kelly (real name Colson Baker) was seen on his phone while sailing with Blink-182 bassist Mark Hoppus, who was joined by wife Skye Hoppus (née Everly).
Barker's bandmate was particularly happy to there to enjoy the lavish ceremony. "A year ago I was in chemotherapy," Mark, 50, wrote on Saturday via his Instagram Story.
In June 2021, the rocker announced he had cancer, stage 4 diffuse large B-cell lymphoma. He revealed he was in remission the following September after months of chemotherapy.
Barker showed his support for Hoppus at the time, telling E! News, "Mark is my brother and I love and support him. I will be with him every step of the way on stage and off and can't wait for us to play together again soon."
Plenty of almost-family members were in attendance at Barker and Kardashian's nuptials, which were held at Villa Olivetta, a home on designers Domenico Dolce and Stefano Gabbana's estate. Corey Gamble, Kris Jenner's longtime boyfriend, was spotted arriving at the reception with Devin Booker. The NBA star has been dating Kendall Jenner since spring 2020.
Kris, 66, and the 818 Tequila founder, 26, arrived with the rest of the bridal party, which consisted of family members. Kim Kardashian, Khloé Kardashian and Kylie Jenner were all in Italy for the nuptials along with Kourtney's children, Mason, 12, Penelope, 9, and Reign, 7, who she shares with ex-boyfriend Scott Disick (who spent Sunday at the beach).
Barker's children were also in attendance. Landon, 18, and Alabama, 16, who the DTA Records founder shares with ex-wife Shanna Moakler, attended alongside their sister Atiana, 23, who Moakler shares with Oscar De La Hoya.
Scroll through the gallery below to see which friends outside of their big, blended family scored invites to Kourtney and Travis' Italian wedding:
See How Kourtney Kardashian Incorporated Travis Barker's Head Tattoos Into Her Wedding Veil – E! Online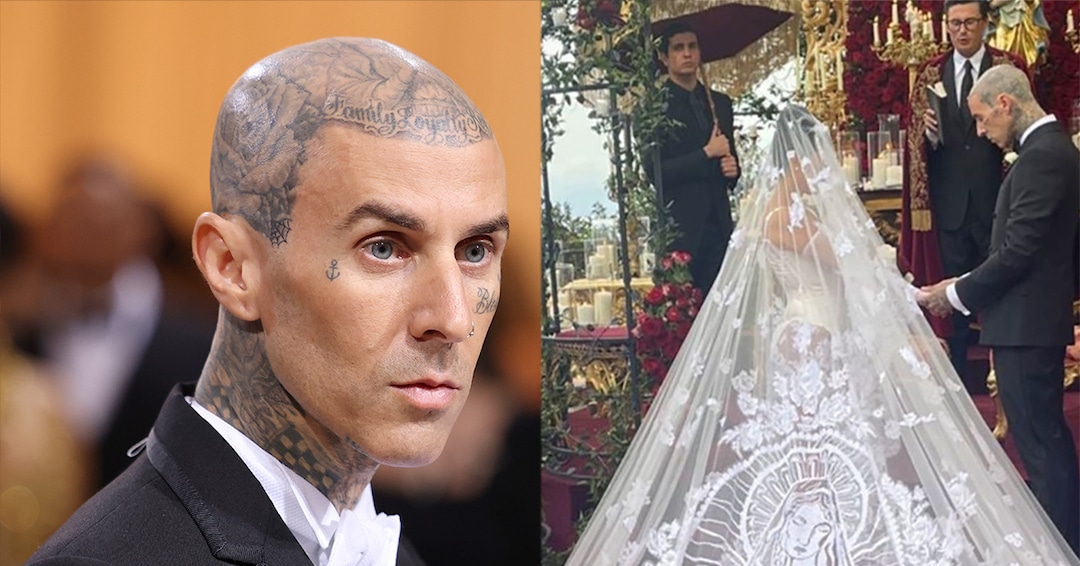 One day before the wedding ceremony, Kourtney donned another Dolce & Gabbana mini-dress, this time in black, featuring an emblem of the Virgin Mary on the front, which she accessorized with a short black veil with blue trim, long black gloves and strappy sandals. 
Kravis' European wedding weekend was a blended family affair with Kourtney's kids Mason Disick, 12, Penelope Disick, 9, and Reign Disick, 7, who she shares with ex Scott Disick, plus Travis' son Landon Barker, 18, daughter Alabama Barker, 16, who he shares with ex-wife Shanna Moakler, and his stepdaughter Atiana De La Hoya, 23, all in attendance.
Halsey Says Their Label Won't Let Them Release New Music Without A "Viral TikTok Moment"
If you're a Halsey fan, you already know that the singer-songwriter released their latest album, If I Can't Have Love, I Want Power, last year.
Halsey's already hard at work on new music, too — but according to them, it might be a minute or two until you actually get to listen to it.
"Basically, I have a song I love that I wanna release ASAP," they said in the video, "but my record label won't let me."
They also claimed that, despite being quite successful at this point in their career, the label told them that "I can't release it unless they can fake a viral moment on TikTok."
"Everything is marketing," they continued, pointing out that the music industry is "doing this to basically every artist these days."
"I just wanna release music, man," they concluded. "And I deserve better tbh. I'm tired."
In a follow-up TikTok captioned "I wish I was kidding lol," Halsey shared what appeared to be a conversation with someone on their team about a potential release schedule for the song. "I just hate this," they say to someone off-camera.
Hopefully, Halsey and their label can work things out and get the song released at some point soon. The music business, folks! It's not all it's cracked up to be, that is for sure.