Upcoming Our Lady Peace tour plans to take in-concert holograms to the next level – National | Globalnews.ca
Everything I know about holograms I learned from either Star Wars or Star Trek. Princess Leia's glitchy SOS to Obi-Wan Kenobi projected by R2D2 to a bewildered Luke Skywalker. The occasionally malfunctioning holodeck on the USS Enterprise. The acerbic Emergency Medical Hologram Mark I on Voyager. All technologies of the far future — or so we thought.
That all began to change on day three of the 2012 Coachella Festival when Tupac Shakur was reanimated 15 years, seven weeks, and three days after he was killed in a drive-by in Las Vegas. A ghostly figure appeared during the set by Dr. Dre and Snoop Dogg and immediately addressed the crowd. "What the f— is up, Coachellaaaaaa!" He then launched into a couple of songs leaving the crowd stunned and the concert industry salivating at the idea of future resurrections.
Progress has been slow, but hologram performances are becoming more commonplace and far more sophisticated. The Tupac show involved a 2D image based on a 19th century trick called Pepper's Ghost that was recreated for Coachella by the same special effects team that worked on Titanic with James Cameron. More recent performances by dead artists (Ronnie James Dio, Roy Orbison, and Whitney Houston, to name a few) use different types of projection techniques that look far more realistic.
The Japanese have taken things in a different direction with performances by Miku, a crazy-famous pop star (more formally known as a "vocaloid") who sells thousands of tickets wherever "she" appears.
Meanwhile, ABBA fans are waiting for the opening of ABBA Voyage, a residency at a custom-built theatre in London that will feature state-of-the-art avatars of each of the band members as they looked in the late 1970s. This is … wow.
Trending Stories
3 Americans found dead at Bahamas Sandals resort, 1 more hospitalized

TikTok creators take aim at Amber Heard with degrading memes amid Johnny Depp trial
The potential for the concert industry is practically unlimited. Along with dead performers magically coming back to life, this technology could see fictional supergroups come together.
Imagine, for example, Elvis, Buddy Holly, John Lennon, Kurt Cobain, and Keith Moon all playing in the same band. People who want this to happen tell me that we're pretty close with the technology. A driving force behind this is the billions of dollars spent on purchasing song catalogues of heritage artists. That money will need to be recouped and profits realized. Using hologram performances, these artists will continue to sing their songs and generate revenue for the rightsholders for decades to come.
This brings us to Our Lady Peace and their upcoming The Wonderful Future Theatrical Hologram Experience, a tour that begins in Victoria, B,C,, on June 6. I'd heard rumblings about some interesting things, so I got in contact with singer Raine Maida.
"We just put out
Spiritual Machines 2
album," Maida says. "The first album [released in 2000] was based on a book by futurist
Ray Kurzweil
called
The Age of Spiritual Machines
. Ray speaks on that album [it's the hidden track on the CD, some 12 minutes after the end of the last song and consists of Ray speaking with an AI he named Molly about subjects like human vs. machine]. On the first show for that first album in Boston, Ray came out and talked about the book, offering all these predictions for the future."
Maida continues: "I was with him in Boston earlier this year and thought, 'Obviously, he's not going to come out and tour with us, but with the use of holograms, could we have him be on stage, be part of the show, and dive deeper into some of these predictions like global universal income, totally fixing climate change through the use of computers, computers passing the Turing Test, and the Singularity. Having him in between songs on the album is fine, but now we get to have him on stage talking about these things. As a hologram."
And that's not all. "There are a bunch of different components to this. Molly is a part of this show as is a new much more advanced AI created by Ray called Cassandra. From there, we've just owned the opportunity and we think we're going to surprise some fans. We're now able to have guests come and join us on stage that we would have never been able to have before. Hopefully, it's just a big spectacle at the end of the day.
"We're working with this great Canadian company called ARHT Media. You can't tell the difference. If you're standing in front of one of their holograms, you think they're there."
Read more:
We're about to enter a new era of virtual concerts. And it is going to get very, very weird.
The holograms will be generated by three heavy "capsules" that are going to be used in ways that have never been done before.
Maida says fans will run into these creations immediately upon entering the theatre. "There will be a hologram — Molly, actually — in the lobby greeting people as they come in. It's probably going to take away from our merch sales because people will be staring at this hologram!
"Fans are going to see some old faces that they haven't seen in a while. (SPOILER: Ex-OLP lead guitarist Mike Turner will show up as a group of focused photons.)
"It's 100 per cent rock concert, but it does have this theatre aspect to it. And we're blending all types of technologies. People are going to be granted a playbill, just like you would when you go see a play like Hamilton — but as an NFT. It'll be a real leap in technology for us.
"Fingers crossed that it all works!"
—
Alan Cross is a broadcaster with Q107 and 102.1 the Edge and a commentator for Global News.
Subscribe to Alan's Ongoing History of New Music Podcast now on Apple Podcast or Google Play
Ready for Roses! Becca Tilley Kisses Hayley Kiyoko After Music Video Cameo
So rosy! Bachelor Nation's Becca Tilley shared a kiss with singer Hayley Kiyoko while celebrating the release of her latest hit "For the Girls."
The pop star, 31, and the reality TV star, 33, locked lips at a party held in honor of the new song and its accompanying video, which dropped on Friday, May 20.
Kiyoko put a queer spin on The Bachelorette in her new music video. "For the Girls" is the first single from her upcoming album, Panorama, out this summer.
In the footage, the California native stands in front of a mansion waiting to meet the contestants vying for her heart. As the limos pull up, women dressed in gowns and suits exit one by one, introducing themselves to Kiyoko before entering the mansion. Just like an episode of the ABC dating series, there are tears, toasts and tons of makeouts.
At the end of the video, a car honks outside and one last contender steps out of her limo. Tilley emerges in a gold off-the-shoulder dress and smiles at Kiyoko. The "Scrubbing In" podcast host previously appeared on season 19 of The Bachelor, finishing as Chris Soules' runner-up in 2015, and returned on Ben Higgins' season the following year.
"'For The Girls' is an anthem celebrating that love, highlighting our strength, beauty, and vulnerability," the songwriter explained in a press release. "The music video is meant to reflect that celebration with a sense of humor and an expansive take on whose romantic story gets told."
The self-directed video aimed to "give representation to all of us searching for love," Kiyoko continued. "Being surrounded by queer people of many different gender identities and making art that feels relevant to us was the greatest gift. It was a reminder of how resilient this community is and how strong and confident we feel being our authentic selves together. No matter how you identify or who you love, I hope this summer bop makes you feel sexy and empowered."
Following her search for love on reality TV, Tilley briefly dated Robert Graham, who appeared on season 9 of The Bachelorette and season 1 of Bachelor in Paradise. Us Weekly confirmed they called it quits in 2017, and the clothing designer has decided to keep her dating life on the down-low ever since.
"I just think that my relationship that I'm in is just, I like that it's private and it's my own," she exclusively told Us in September 2019, months after revealing on her podcast that she was "in love" with someone. "I had a public relationship before and it just felt like I had a lot of people involved, which I know that's why they sort of watched me in the first place."
At that point, Tilley didn't "have a timeline" of when she would reveal her significant other's identity. "I just feel if the moment comes where I'm like, 'Oh, I'm just going to say something,' then I will," she told Us. "I'm really happy and I hope to eventually start opening up about it more, but I'm happy with it being private right now."
More recently, the chiropractic assistant asserted that she wasn't "hiding" her romance from fans. "Being private on social media is not the same as hiding. People already have an opinion on about my relationship and I haven't even shared it," she explained during an Instagram Q&A in February. "Makes sense why I want to protect it? But maybe one day! It'll be our choice though."
Cynthia Erivo & Alia Shawkat Lead Anthony Chen's 'Drift' For 'Call Me By Your Name' & 'Nomadland' Producers — Cannes
EXCLUSIVE: Oscar nominee Cynthia Erivo (Harriet) will lead cast alongside Being The Ricardos and Arrested Development star Alia Shawkat in Anthony Chen's (Ilo Ilo) English-language debut Drift.
The film reunites Call Me By Your Name producers Emilie Georges and Peter Spears and exec producer Naima Abed. Spears won the Best Picture Oscar last year for Chloé Zhao's Nomadland.
Drift follows a young Liberian refugee named Jacqueline (Erivo) who has barely escaped her war-torn country to a Greek island. She offers massages to tourists in exchange for one or two euros to battle her hunger, while her daily struggle for survival keeps the memories that haunt her at bay. She meets an unmoored tour guide (Shawkat) and the two become close as they each find hope in the other. Ibrahima Ba, who has a supporting role in Cannes 2022 title Father & Soldier, is also among cast.
Filming is currently underway in Greece on the under-the-radar drama. Susanne Farrell (Dirty God) and Alexander Maksik adapted the screenplay from Maksik's well-received novel A Marker To Measure Drift.
Drift marks the third collaboration between Chen and Georges, who sold his first two films, Caméra d'Or winner Ilo Ilo and Wet Season. French firm Memento is handling sales but it isn't a sales priority project in Cannes.
Georges and Abed, co-founders and co-CEOs of Memento's newly re-launched production label Paradise City are producing with Spears of Cor Cordium. Cynthia Erivo and Solome Williams are producing under their Edith's Daughter banner alongside Anthony Chen's Giraffe Pictures. Konstantinos Kontovrakis and Giorgos Karnavas are serving as co-producers for Heretic.
Erivo stars in Netflix's upcoming film Luther opposite Idris Elba. She will next begin filming Jon M. Chu's two-film adaptation of the hit Broadway musical Wicked, starring as Elphaba opposite Ariana Grande. Erivo was nominated for two Oscars for Harriet, for Best Actress and Best Original Song, and was recently nominated for an Emmy for her performance in Genius: Aretha. Also a singer and a stage actress, Erivo has won Tony, Grammy, and Emmy for her performance in the musical The Color Purple.
Shawkat can currently be seen in Amazon Studios' critically acclaimed feature film Being The Ricardos from Aaron Sorkin. She stars opposite Nicole Kidman and Javier Bardem as I Love Lucy writer Madelyn Pugh. On TV, she will next be seen in FX's series, The Old Man, opposite Jeff Bridges. She is well known for HBO's Search Party and Arrested Development.
Festival-favourite Chen's recently wrapped The Breaking Ice starring Dongyu Zhou. He is also slated to direct The Secret Daughter with Priyanka Chopra and Sienna Miller for Amazon.
"Drift is a compelling and deeply affecting story about the strength of the human spirit during the worst of times. It has been an emotional experience developing this film in the past few years, particularly during the challenging days of the pandemic," said director Chen. "I'm thrilled to mark my English language feature debut working alongside the remarkable talents of Cynthia and Alia."
Commented Erivo: "From the moment I read Drift, I was moved by the rare duality of Jacqueline, who both painfully and hopefully represents the depths of the immigrant experience, and specifically the black immigrant experience abroad. Sadly this subject becomes more and more relevant and timely with each day. Too often the experience of immigrants is told through headlines, which don't encapsulate the individual's humanity. My hope is this project can show their struggle with the empathy and attention it deserves."
Georges said: "From my long standing collaboration with Anthony on Ilo Ilo and Wet Season, I've learned that he has a unique talent for exploring intimacy with love and his accessible style giving the audience access to character's humanity, decency and warmth."
Added Abed: "Representing the immigrant experience requires nuance, subtlety and grace. We couldn't be prouder to have this incredible team to bring this story to life."
Spears explained: "In this time of great human upheaval, Drift reminds us of our common humanity; that every one of us has a story forged by hope, resilience, and, for many, unimaginable hardships. I could not be prouder to help tell this powerful story with our incredible team of filmmakers from around the world."
The film is a co-production between Paradise City Films (France), Heretic (Greece) and Fortyninesixty (the U.K.), in association with Cor Cordium, Edith's Daughter and Giraffe Pictures, and is financed by Sunac Culture and Aim Media, Lauran Bromley's Ages LLC, the UK Global Screen Fund – financed by the UK government's Department for Digital, Culture, Media and Sport (DCMS) and administered by the BFI, and the Greek Film Center, with additional support from the Creative Europe Media European Program.
Erivo is represented by UTA, Authentic Talent & Literary Management & The Lede Company. Anthony Chen is represented by UTA and Casarotto Ramsay & Associates. Shawkat is repped by UTA and MGMT Entertainment.
Rihanna and A$AP Rocky have welcomed a baby boy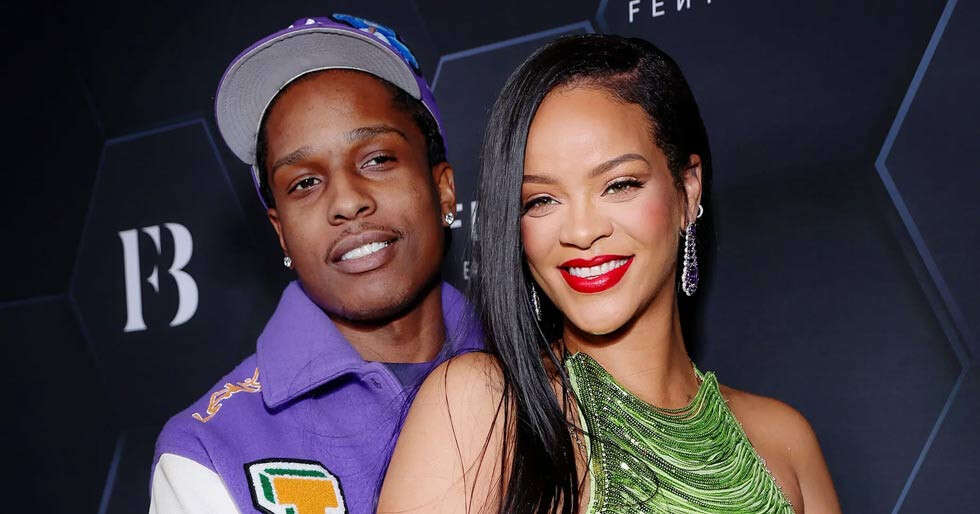 Rihanna and her boyfriend, A$AP Rocky, are officially parents! The 'Diamonds' singer, 34, gave birth to a baby boy. As per multiple reports, the baby was born a week ago on May 13, and the proud new parents are currently in their home in Los Angeles. This is Rihanna and A$AP's first child.
Currently, the new parents are yet to officially announce the birth of their baby or reveal the name. An unnamed source told People, "Rihanna is doing well. They are very excited to be parents. Rihanna is already a wonderful mom."
Through the course of her pregnancy, Rihanna redefined fashion for pregnant women in more ways than one. The singer made some impactful strides from showing off her baby bump across the growing stages to serving up stunning designer looks.
She first announced that she was expecting a child with A$AP back in January. They were also clicked in New York City, with the singer debuting her baby bump in style in a pink jacket. Since then, Rihanna has made headlines one bold statement at a time.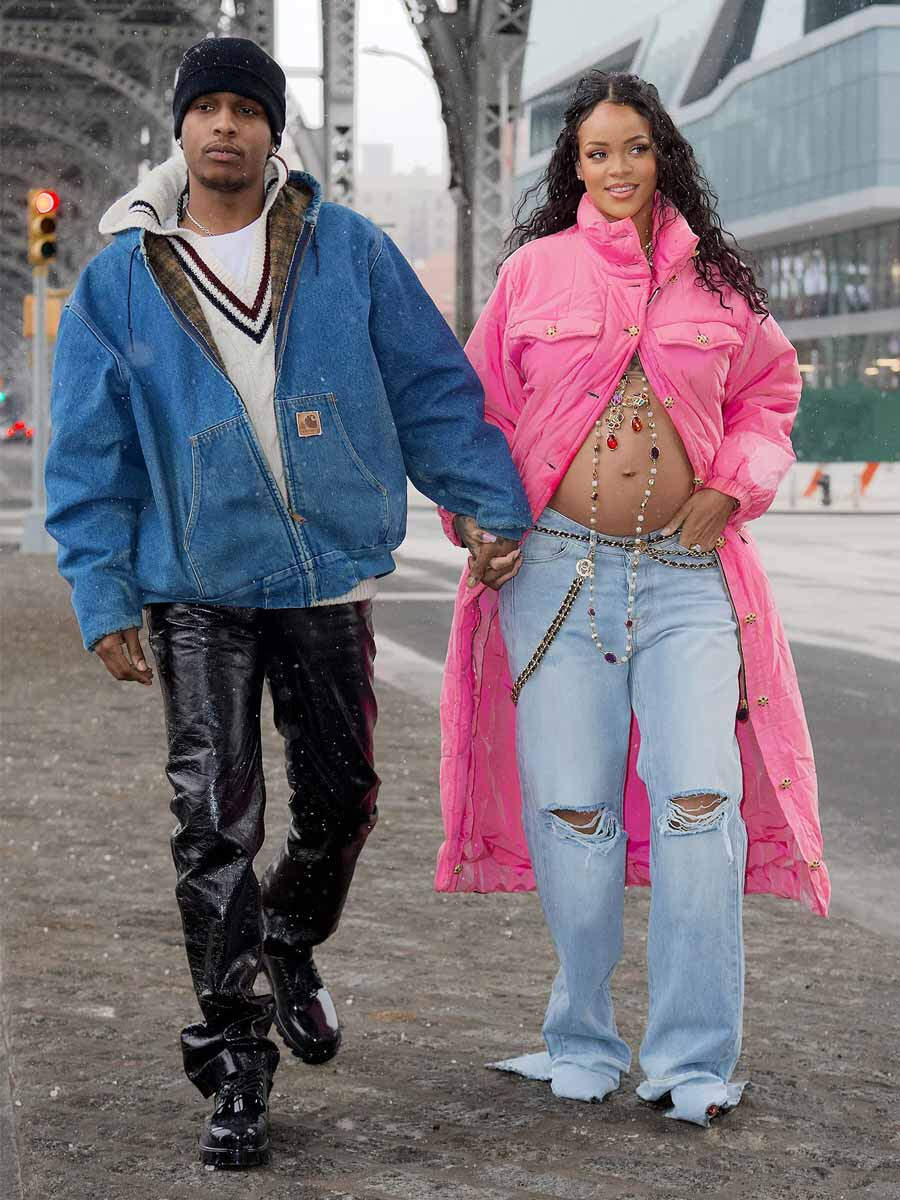 Earlier, it was reported that A$AP was arrested, with authorities claiming that he had been accused of firing a gun at an acquaintance who suffered an injury as the bullet grazed his hand. However, Rihanna continued to support her boyfriend.
Here's congratulating new parents, Rihanna and A$AP.