Yung Joc Explains His Arrest And Blames Child Abandonment Charge On His Child's Mother 
Last week Thursday (May 5), Atlanta officers arrested and booked Yung Joc into Gwinnett County Jail on a child abandonment charge. Details were hardly available when the news dropped this past weekend. Yung Joc, born Jasiel Amon Robinson, also did not comment on the circulating story. But by Monday morning, Joc changed his tune and broke his silence on his radio segment Streetz Morning Takeover for Streetz 94.5 FM. 
Yung Joc Explains How He Was Arrested 
According to his explanation, officers from the Atlanta Police Department pulled him over as he drove home to get ready for an event. A female officer identified him with "yup that's him" while standing at his front passenger window. Then another officer at Joc's window asked him to step out of the car. The officer handcuffed Joc, told him he might have a warrant, and transported him to the station for booking. The artist paid a $1,300 bond and officials released him about two hours after the arrest.
He confirmed that the abandonment charge involves child support payments. However, he made it clear that there was no abandonment. In fact, he says he was paying his child's mother, whom he refused to name at this time, between four to five thousand dollars a month. This, Yung Joc said, is a claim he put on the lives of his mother and children. In his words, he was paying ahead to stay ahead, but also because he "didn't want no smoke."
Disagreement On Child Support Leads To Abandonment Charge
Then, Joc decided he wanted to take a step back to handle other finances, including his upcoming wedding expenses. As previously reported, Yung Joc tied the knot with Kendra Robinson in November 2021. Joc said the unidentified mother didn't receive the payment news well.
"That person got mad. That mother got mad. And felt like no, you are supposed to keep paying me this," Yung Joc said.
At this point, the radio host suggested creating an official child support contract through lawyers. Prior to this suggestion, they had not established a payment amount. The parents began the process of settling on a monthly amount, which required reviewing all of Joc's income/expenses documents. By the end of the year, their lawyers were still in negotiations, but Joc offered to give his child's mother $1,500 for Christmas shopping. Joc claims both his co-parent and her lawyer weren't satisfied with the amount, leading to the abandonment charge.
"I didn't even know, I didn't even know I had a warrant for this," Yung Joc said. "So here I am, I'm just living my life casually. Still paying child support and suddenly they put out this child abandonment warrant cause they did not want to accept the $1,500. So, when I go to court, this gon have to be reversed, this gon have to be taken off my record. Because there was no point in time where there was any abandonment. There was no point in time where there was no child support."
At the time of his arrest, Yung Joc says he wasn't even aware of the warrant. He also said he and his child's mother have already established the payments. Yung Joc reportedly has eight children, including two sets of twins, with four different women.
Want updates directly in your text inbox? Hit us up at 917-722-8057 or click here to join! 
Choose Which Disney Channel Character You Would Want In An Ideal Situation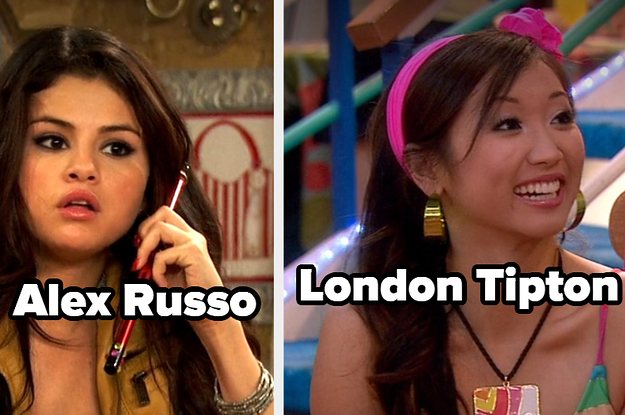 Alex Russo could help me dissapearus from any awkward situation.
---
View Entire Post ›
Kim Kardashian Shares 'I Love You' Message Of Support Amid Pete Davidson's Exit From 'SNL'
Kim Kardashian had some supportive words to say to her boyfriend Pete Davidson on her official Instagram account after he made a major life transition. The sweet message came after he made his final appearance on Saturday Night Live on May 21.
"In case you haven't heard this lately, I love you. I love you so f—ing much, and I'm so proud of you — of the big things and the little things and everything in between the big things and the little things," The Instagram story read. "Consider me your personal, little life cheerleader because you deserve to have one. Woo!" She then uploaded a collage of Pete's appearances on 'SNL,' according to People.
Reports started breaking that Pete was leaving the iconic sketch show after eight years on May 20. The comedian himself then confirmed reports with a personal announcement on a "Weekend Update" skit the next day.
"Lorne accidentally gifted me a sock so I'm now free," he said in a clever Harry Potter reference. "I remember when I auditioned for SNL, he looked me in the eye and said 'I don't think you're right for this show — so let's screw this up together.' And that's exactly what we did. That's why people who think I don't deserve this job shouldn't hate me since we have so much in common…like if anything, I should inspire hope — that literally anyone could be on Saturday Night Live," he added.
"Thank you to Lorne for never giving up on me, and believing in me, and allowing me to have a place to call home with memories that will last a lifetime — thank you, guys," he concluded in a final emotional statement regarding his last appearance as a cast member.
However, the sentiment didn't stop there, as The King of Staten Island star asked his close friend Dave Sirus to post a heartfelt letter on his social media written by Pete himself. "I owe Lorne Michaels and everyone at SNL my life. I'm so grateful and I wouldn't be here without them. I appreciate you guys always having my back and sticking up for me even when that wasn't the popular opinion," he said. "Thank you for always believing in me and sticking by my side even when it seemed comical. Thank you for teaching me life values, how to grow up and for giving me memories that will last a lifetime. SNL is my home," he stated towards the end of the letter.
Cannes Review: Jean Dujardin In Cedric Jimenez's 'Novembre'
Understandably, the terrorist attacks in Paris on the night of November 13, 2015 have been treated with great sensitivity by the French film industry, and the only other film in the Cannes Film Festival's lineup this year to touch on those events — Alice Winocour's Paris Revoir — is a lightly fictionalized drama set in the aftermath of the night 130 people were killed, most of them at a rock concert at the city's Bataclan nightclub. Though many names have been changed, for obvious security reasons, Cedric Jimenez's Novembre is, by contrast, a heavy-artillery just-the-facts-ma'am police procedural detailing the manhunt that followed in the next five days.
The Cannes out-of-competition film starts in a quite surprisingly low-key way, following a woman jogging the banks of the Seine as David Bowie's mournful early 1970s cover "Sorrow" plays. The events of the night play out on screen, and though, quite rightly, we are not shown any of the carnage, we do find out that the jogger, Ines (Anaïs Demoustier), is an off-duty cop with the city's anti-terrorist team, and her shock when she gets a call from the team is a neat way of showing just how bad news really travels. In the office, Fred (Jean Dujardin) and Héloise (Sandrine Kiberlain) are charged with the impossible task of finding the people responsible for the shootings, using CCTV footage, in-person surveillance and phone wires to investigate a terror network with links to Brussels.
For the most part, this is superior reconstruction stuff, so much so that Dujardin soon disappears into a role that is largely exposition, pointing at maps and pictures on pin boards, and shouting at subordinates in a generous, avuncular way. The military aspect is slightly disturbingly fetishized; though Fred's division is clearly on the right side of history, the Hollywood-blockbuster images of faceless police in black riot gear don't exactly make it look like the cavalry is coming, which is when you might realize that you're not watching a run-of-the-mill Netflix true-crime drama. The shootouts are brutal, and though necessary to the story, their presentation is a little counterintuitive in a film that is predicated on the preservation of peace in a non-violent society.
Thankfully, there are glimmers of humanity, and just when it seems that there might be no nuance at all to this effective but so far prosaic film, Jimenez pivots to the story of Samia (the fantastic Lyna Khoudri Samia), a young do-gooder at a homeless camp who has serious intel: her flatmate is bankrolling her cousin, one of the terrorists.
This is where Novembre takes off; Fred and Héloise put pressure on Ines to deliver the suspect by any means, and the film strikes out in a slight different direction. Until now, it has been about rules, responsibility and the full weight of the law — but in an abstract way. Now, with Samia being strong-armed and frightened, we see how those things impact on normal people, how civic duty is all well and good until you try to actually do it.
Novembre doesn't offer any new insights into what happened, and neither does it dwell on that. What's good about it is that reflects on lessons learned, giving credit where it's due — finding terrorists in today's world is near-impossible task, so the achievements the French made that week are incredible — but it also isn't afraid to find fault, noting the injustices that can and do happen, ironically, in the pursuit of justice itself.