A Push for Normalcy Tests the Gerontocracy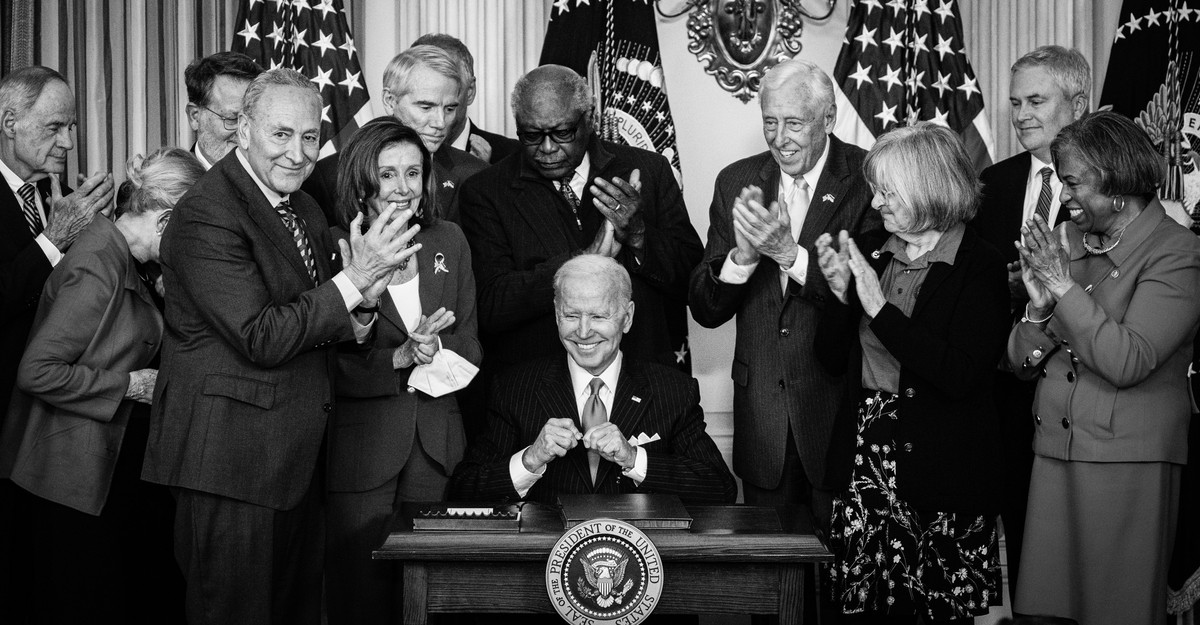 Yesterday afternoon, President Joe Biden hosted a good old-fashioned bill-signing ceremony at the White House. Before an audience of several dozen in the State Dining Room, the president celebrated the long-awaited enactment of a postal-reform bill. After his brief remarks, a large, bipartisan group of lawmakers crowded around Biden as he put pen to paper on the legislation. They huddled in close, as politicians do, silently jostling for prime position in the photo. None of them wore a mask, although House Speaker Nancy Pelosi carried one around her wrist like a handbag.
The event was a taste of the normalcy that Biden has been trying to create lately. Reality intruded this morning, however, when Pelosi announced that she had tested positive for COVID-19, becoming the highest-ranking government official to do so since former President Donald Trump's near-death bout with the virus in October 2020. The 82-year-old speaker stood maskless right beside the 79-year-old Biden yesterday; she also attended an even larger, mostly mask-free event at the White House a day earlier that featured Biden and former President Barack Obama.
Biden's own test came back negative last night, the White House said in a statement. Because he interacted only briefly with Pelosi at both events, he is not considered a close contact under the CDC guidelines. But that may be wishful thinking. The virus seems to be stalking the president: Two members of Biden's Cabinet, Attorney General Merrick Garland and Commerce Secretary Gina Raimondo, tested positive after attending the annual Gridiron Club dinner on Saturday night, a gala that brought together several hundred members of the D.C. elite. The president's sister, Valerie Biden Owens, also tested positive after attending the dinner.
Biden, who did not attend the Gridiron Club event, is going about his business this week, reflecting what he called the "new moment" that the country has entered in its fight against the pandemic. "We are moving forward safely, back to more normal routines," the president said during last month's State of the Union address. "COVID-19 need no longer control our lives."
As he has throughout his tenure, Biden is trying to model the behavior the government is recommending. He's fully vaccinated and double-boosted, having received an additional shot within days of their authorization for people over the age of 50 or who are immunocompromised. When the CDC urged wearing masks in public spaces, the president wore one except when speaking, to the point where Republicans mocked him for keeping his face covered while walking outside alone during trips between his helicopter and the White House. Now that the CDC has updated its recommendations, Biden is back to glad-handing in close quarters without a mask.
Yet the push for normalcy is complicated when the leaders doing the pushing are, according to the CDC, still at the highest risk of getting very sick or dying from COVID. People in Biden and Pelosi's age group, 75–84, represent just 3.3 percent of COVID-19 cases recorded during the pandemic, but they make up more than one-quarter of all deaths. That older Americans comprise such a small portion of overall cases is likely because millions of them are long retired and interact with far fewer people than the president of the United States and the speaker of the House. (Both of Pelosi's octogenarian lieutenants, Majority Leader Steny Hoyer, 82, and Majority Whip James Clyburn, 81, weathered mild COVID-19 cases during the winter Omicron wave.) With COVID cases rising again in more than half the country, including the District of Columbia, public-health experts are encouraging people at higher risk for severe COVID, including the elderly, to exercise more precautions. Can Biden do that while projecting "normalcy"?
The CDC already recommends that older adults take extra precautions to reduce their risk of contracting the virus, but the White House has given no indication that Biden will do so. This afternoon he watched alongside his Supreme Court nominee, Judge Ketanji Brown Jackson, as the Senate confirmed her to the bench. The two embraced, and neither wore a mask. Biden's current relaxed posture toward the virus may represent a political imperative for the president heading into an election season that is already expected to be difficult for his party; the public, Biden acknowledged last month, is "tired, frustrated, and exhausted" after more than two years of pandemic life. Certainly now is a comparatively better time to get the coronavirus than when Trump fell sick barely a month ahead of the 2020 election, before the availability of vaccines.
Perhaps the White House is resigned to the president eventually contracting the virus, given how transmissible both the Omicron variant and its even sneakier cousin, BA.2, have proved to be. Most recent infections among public officials, even those in Biden's age bracket, have been mild. Pelosi is exhibiting no symptoms, her office said, nor is Garland, who is 69. Nobody should wish illness on anybody, least of all the president. But given how close the virus is coming to Biden, and how little alarm the White House is (publicly) expressing, a positive test result wouldn't be surprising; it might even be, well, normal.
WHERE IS THE MAINSTREAM MEDIA? Gas Prices Reach Another New All-Time Record High at $4.593/Gallon — 11th Straight All-Time Record High in 11 Days
Gas prices reached $4.59 on Friday. This was a new all-time record high for gas prices in America. It was the 11th straight day of all-time record high gas prices.
Advertisement – story continues below
This was the 11th day in a row of new all-time record high gas prices.
Just one week ago on Tuesday — Only 11 days ago —    Gas prices first hit a new all-time high under Joe Biden at $4.37 per gallon of regular gasoline.
TRENDING: WATCH: Trump-Endorsed Kari Lake DESTROYS Liberal Reporter – It Was So Devastating that the Most Biased Paper In Arizona History Didn't Even Run the Story!
Tuesday 5/10 … $4.37/gallon
Wednesday 5/11 … $4.40/gallon
Thursday 5/12 … $4.41/gallon
Friday 5/13 … $4.44/gallon
Saturday-Sunday 5-14 and 5-15
Monday 5/16 … $4.50/gallon
Tuesday 5/17 … $4.52/gallon
Wednesday 5/18 … $4.57/gallon
Thursday 5-19 … $4.589/gallon
Friday 5-20 … $4.593/gallon
Advertisement – story continues below
Today's all-time record is at $4.59 per gallon.  The price of gas is up over 20 cents in just one week. 
And every day is a new all-time record.
This is a national man-made catastrophe!
Joe Biden and Democrats did this.
Number on Unemployment Hits 52-Year Low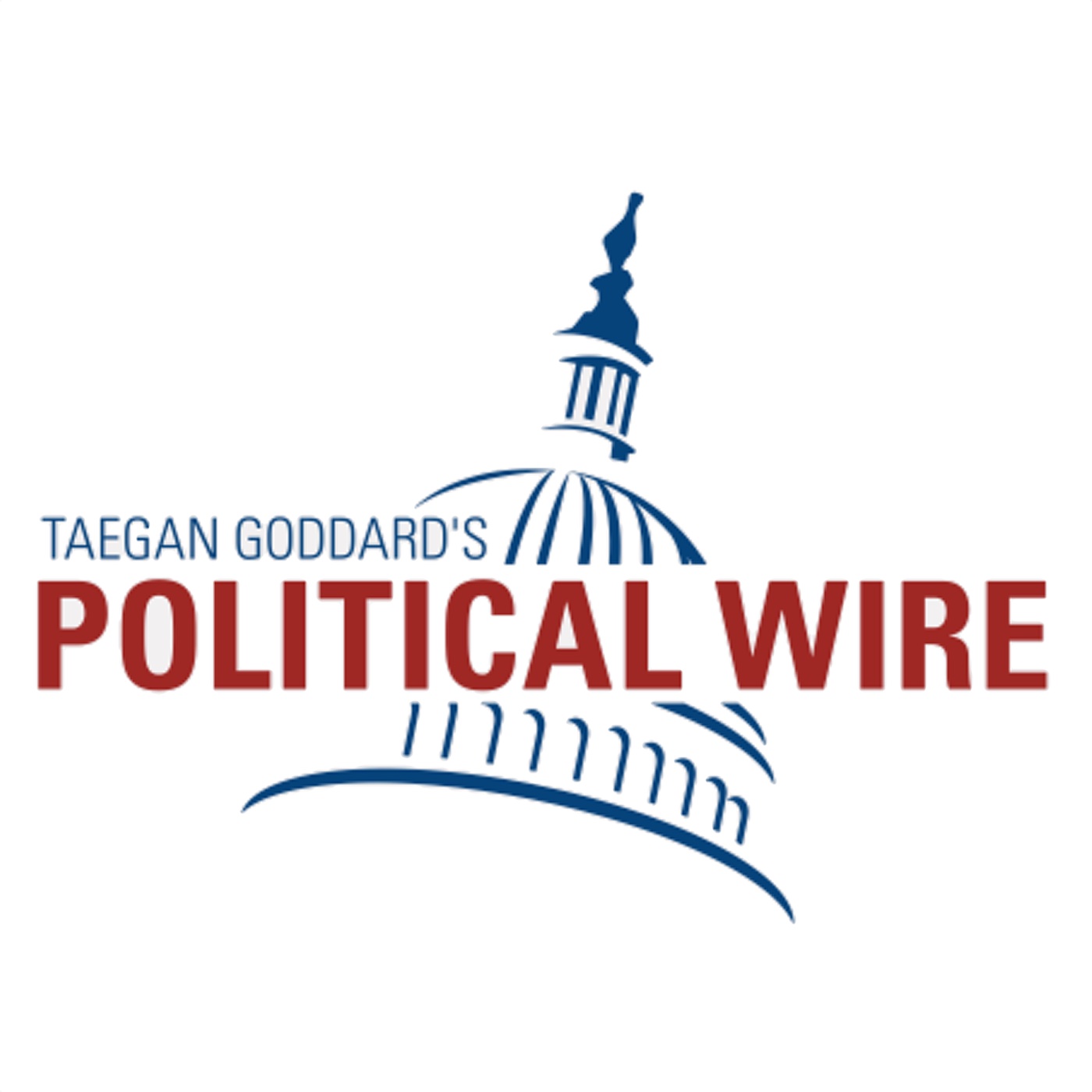 "The number of people receiving unemployment benefits fell in early May to the lowest point in more than 50 years, adding to signs the U.S. labor market remains unusually tight," the Wall Street Journal reports.
Oklahoma legislature passes nation's most restrictive abortion ban
In order to spread the punishment around, Oklahoma will use a similar enforcement mechanism as Texas and Idaho—a bounty system that allows people to file lawsuits against providers or people seeking abortions. To twist the knife, they will include anyone who "knowingly engages in conduct that aids or abets the performance or inducement of an abortion," including paying for one as well as anyone who even "intends to engage" in either of the two actions above. The person getting the abortion is spared from that, because again Oklahoma Republicans are just so damned compassionate. But if you donate to one of the funds that might help an Oklahoman travel to get an abortion, you could be sued for $10,000 and compensatory damages by a bounty hunter.
There are a lot of problems with this bill, even considering how nice Republicans decided to be to pregnant people. For example, punishing people who are actually trying to have a baby if something happens to go wrong. "Looking at the language, it's hard to see how it wouldn't affect in vitro fertilization because it talks about as soon as the ovum and the sperm meet, and the egg is fertilized, that means that's a person," Oklahoma state Rep. Emily Virgin (D) said. "That's what happens with in vitro fertilization, you create embryos."
"The litany of oppressive and punitive anti-abortion laws that have come into being this year signal to the people of Oklahoma that their agency does not matter, their dreams do not matter, and that their lives do not matter," Zack Gingrich-Gaylord, spokesman for Oklahoma abortion provider Trust Woman said in a statement.
He called it "a gratuitous and cruel flaunting of power by anti-abortion legislators." Gov. Keven State signed a new law banning abortion at six weeks—with no rape or incest exceptions—just two weeks ago. "Our patients are frightened, confused about the new reality they now live in," he said. "They are angry at a government that continues to demonstrate a reckless and enthusiastic disregard for their lives."
Planned Parenthood is taking Oklahoma to court.
That's essential. It's also futile given the current composition of the court. It might delay enactment of the law some, however. Stitt will sign it, he's vowed to sign any forced birth bill that comes across his desk.
The one way this gets fixed and our rights are restored and protected—literally the only single way—is with a different Supreme Court. Yes, Congress could pass a law codifying Roe, but states would challenge it and this Supreme Court would strike it down. The sooner every elected Democrat starts advocating for it, along with the majority of Democratic voters and the advocacy groups, the better.
RELATED STORIES: