How to Master Your Nascar Betting Skills
Do you like cars, the adrenaline rush, as well as money? Once you combine all three of these things you're looking at the perfect blend: Nascar betting. Nascar betting can be an exciting way to enhance your racing experience while making a profit when betting on your favorites. If you wish to give it a go and you want to be successful make sure that you keep on reading. Here, we're going to list some tips and tricks that will help you make proper bets, no matter if you have any previous Nascar knowledge or not.
What is Nascar?
Nascar or The National Association for Stock Car Auto Racing is the most popular auto racing series. It is super popular and very loved in the U.S. It has been around since February of 1948. The whole point of the race is to be the fastest while modifying or tuning the vehicles, making each car better, faster, and showier than the previous one, and way better than your opponent's. It is also seen as a dangerous sport, filled with a ton of adrenaline, rush, and loud noises.
How does one qualify for a race?
Prior to a NASCAR race, drivers must prove that they are eligible for the race by qualifying and meeting all of their official guidelines and criteria. A qualification run will also help them sort out the grid. They will drive till they are satisfied with their lap time with three qualifying rounds. There are 36 charter slots that have to be filled, leaving four races open for non-charter cars. This number can also slightly vary depending on the current season and qualified drivers.
How to master your betting skills: top 5 ways to follow
1. Get informed about the drivers
For anyone who is unfamiliar with the sport (as many sports fans are), it is crucial to do your research and get involved with the betting side. So, if this is your first time ever watching it, make sure that you re-watch some other episodes and pay close attention to previous years and new faces. In the end, this is a similar concept to betting on football or basketball. Some drivers have more success on certain tracks, while others have years of experience. Dig dip and try to make your research worth it.
2. Different betting options to try out
Betting is not as simple since you have multiple options and routes to consider. Some of the most common ones are:
Find an overall winner: with this bet you're looking at catchy and appealing odds. Go for 2-3 favorites (as long as their odds make sense), and you will come out with a significant amount of profit.
Matchups: these bets set one driver against another and the one who finishes higher wins. Often times you're left with a -110 to -150 proposition.
Future bets: you can choose before the field is selected or once the field is selected. These will require a bit more knowledge of the track and players.
3. Bet on a car manufacturer
This is a fun feature to bet on, especially if you're familiar with all the cars and you're an adrenaline junkie. Which manufacturer is your favorite, and which one has won the previous year? Although these facts can be helpful and practical, the real truth is that you don't have to be a mechanic or a car fanatic to process this, but you can try out simple maths. Odds are set on these bets based on how many of a certain type of car is in the race and who's driving those cars. Read it all through and see which model reappears the most. Only then make your bet and know that your chances of winning are high.
4. Try betting on props
If you really want to have fun and not worry or stress out a lot about your favorite driver or teams, why not bet on props?! Betting on lap times and a driver or two can be time-consuming, meaning that you may want to indulge in something simpler. Prop betting means that you can bet on any prop that is available for that specific day and its race. This includes the number of times the caution flag will come out, the number of laps the winner of the race will lead, and any other small detail that a bookie can offer you. If you wish to enjoy the game and win some extra cash this is a fun feature to consider.
5. Look at the weather
This is an important factor to take into consideration, especially if the weather is looking gloomy. So, turn on your weather app and see what it says. Unfortunately, weather can be so unpredictable and it can get you in trouble if it interferes with the race. Let's not forget that the stats can change as well. Colder temperatures mean that there is a chance of more cool air making it into the engine, while a slippery track could result in a crash. If you did your research prior to this you would have known how others have performed in the past, and if any weather conditions have affected their performance.
Where to get more information about your bets?
If you're tired of placing your bets on football or basketball now might be a good time to switch it up and give Nascar a chance. If you decide to make the switch, try your hand at betting on some of the more notable races throughout the season. Not too sure how to do it or where to get the information that will push you in the right direction? Make sure to check out insidersbettingdigest.com since they have all the information that will help both hardcore and casual bettor with the sports betting insights that they can't find anywhere else. Look at all the bet statistics and be ready to take the matter into your own hands with a trustworthy resource.
Hidilyn Diaz happy with her performance, says it's first step to Paris
HANOI—Make no doubt about it, Hidilyn Diaz is tracing her steps back to the Olympics. Never mind the underwhelming performance with which she secured her second Southeast Asian Games gold medal on Friday here.
The country's first and only Olympic champion admitted her showing "wasn't good," but she's happy with it. After all it was just the first step on her way back to the pinnacle of sporting glory.
"For me it's okay. I'm happy to be back. I'm happy to be back again and train, and you know to be in competition again," said Diaz moments after handing Team Philippines the gold in the women's weightlifting 55-kilogram against a Thai opponent who tried to spoil it all for her.
Rio de Janeiro Olympiad 48kg champion Sanikun Tanasan was flinging the barbell high up in snatch where she led Diaz, 93-92, in a showdown of Olympic queens.
Diaz first surpassed the SEA Games snatch record of 91kg by one kilo. But Tanasan, going up from her weight class just to give Diaz a run for her money, lifted 93kg to reset it again.
Diaz tried 94kg but failed. Around this time, the overflow crowd at Hanoi Sports Palace were getting jittery.
Not Diaz, though.
"I was really confident because we've been studying my opponent so we know she's strong in snatch but in clean and jerk, no," she said.
Her support squad, known as Team HD, proved correct in its projection as Tanasan opted to start in clean and clear at 104kg, way below Diaz's 114kg. The Thai managed to lift until 110kg but could not make up the three-kilogram difference and settled for silver.
Samahang Weightlifting ng Pilipinas president Monico Puentevella said that though they have lined up young lifters for the future, the 31-year-old Diaz "will remain the Philippine weightlifting's heart and soul."
"Of course I don't want to downplay the competition, I always want to do my best, she's an Olympic (gold) medalist, we just have to strategize everything," said Diaz. She even took a shot at a Games' record of 121kg but didn't make it.
Diaz completed the golden run with lifts of 92kg in snatch, 114kg in snatch and jerk for her 206 total, besting Tanasan (93kg-110kg-203kg) and Malaysian Natasya Beteyob (84kg-104kg-188kg).
"I'm happy even if I lost in snatch and happy that I am here again," said Diaz, who bared she battled with COVID-19 last January. "I'm thankful that I recovered and I was able to do my best, even though the total was not good, my performance was but I'm happy (with it)."
Just like every athlete eyeing the 2024 Summer Games, Diaz said the SEA Games was "part of my journey to Paris. I want to win the gold medal again in Paris."
And she's well on her way to that goal.
RELATED STORIES
Read Next
Subscribe to INQUIRER PLUS to get access to The Philippine Daily Inquirer & other 70+ titles, share up to 5 gadgets, listen to the news, download as early as 4am & share articles on social media. Call 896 6000.
Divock Origi: Jurgen Klopp confirms 'Liverpool legend' will leave club this summer amid AC Milan interest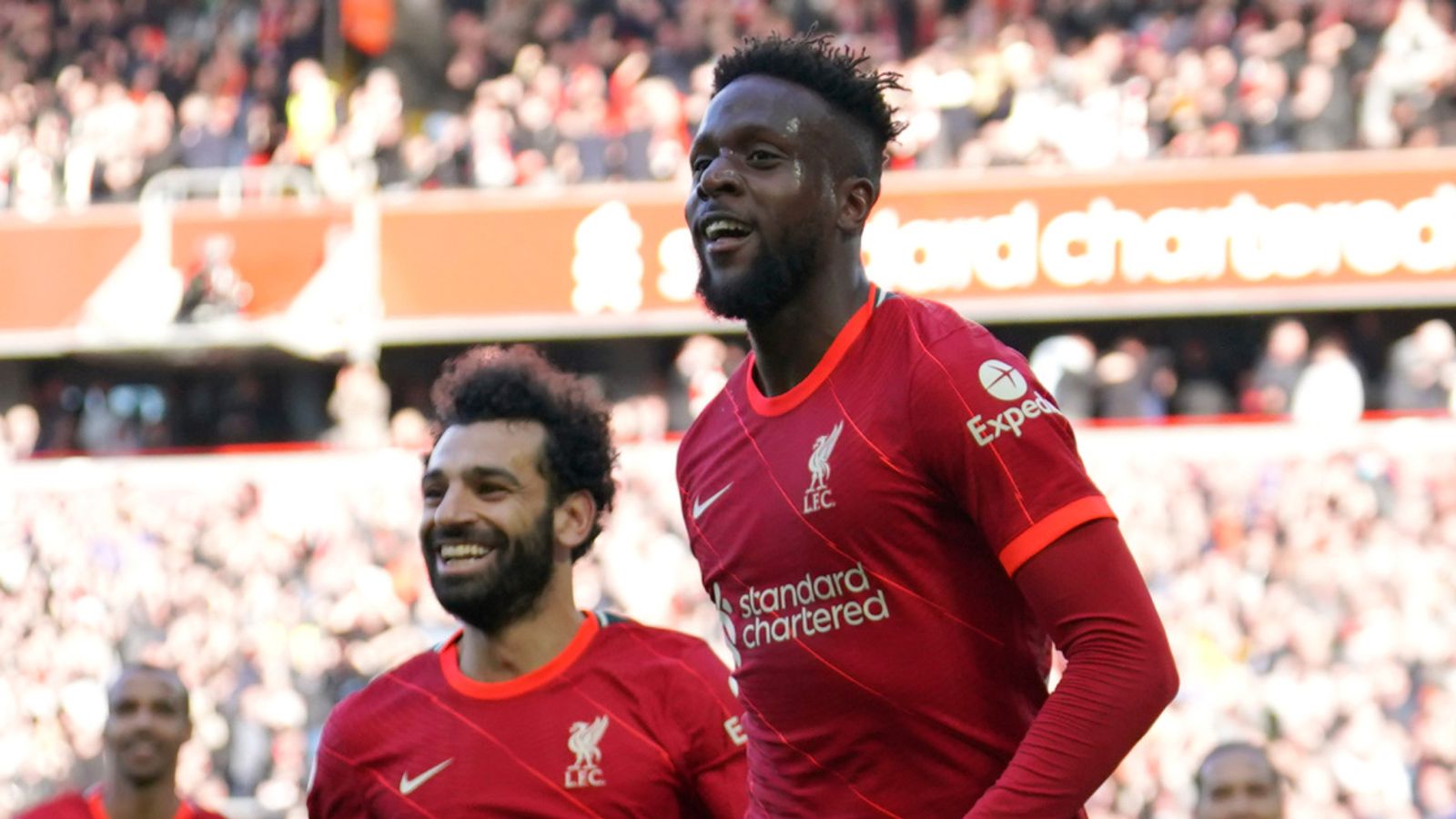 Jurgen Klopp has confirmed "Liverpool legend" Divock Origi will leave the club this summer, with the forward expected to join AC Milan when his contract expires.
Origi has earned cult-hero status since joining Liverpool in 2015 with a string of iconic goals, most notably his comeback-sealing double against Barcelona in the Champions League semi-finals and his stoppage-time winner against Everton in 2019.
But the arrival of Luis Diaz in January has only heightened the lack of first-team opportunities on offer to Origi and his quest for more regular football is likely to see him trade Merseyside for Milan at the end of the season.

Sunday 22nd May 2:30pm


Kick off 4:00pm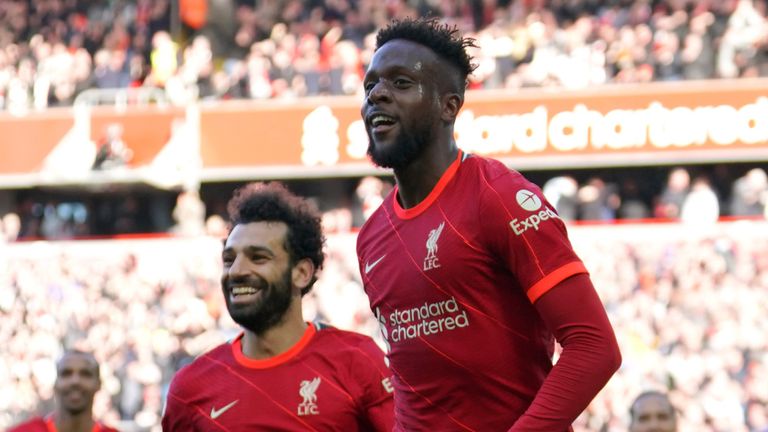 "I expect Div to get a special farewell. For me, he will always be a Liverpool legend and it has been a joy to work with him," Klopp said.
"He's one of the most important players I ever had. Wherever he will go he will be successful, 100 per cent.
"It will be a hard moment when he leaves. He is a Liverpool legend, no doubt."
On other potential outgoings, Klopp added: "I don't want to see anyone leave but that's life. No-one has come to me and said they want to leave. It's not the time for that now.
"What happened this year is possible because of the group; world-class players. Kids played their part which was nice too.
"I have no idea who wants to go at the moment but if someone comes to me and says they have a club they want to join we will speak to the club with an offer."
Earlier on Friday, The Athletic's David Ornstein told Sky Sports News: "Origi has agreed personal terms.
"It's not yet a done deal in terms of a medical and finalising that transfer, but he hasn't made enough appearances at Liverpool to trigger the extension clause that was in his contract.
"It's just a case of putting the finishing touches to what would be a pretty iconic transfer at the age of 27, with Milan pushing to win the Italian title and get back into the Champions League, so I think that's going to happen."
Klopp: Positive news on Salah and Van Dijk
Liverpool's 2-1 win at Southampton on Tuesday closed the gap on Premier League leaders Manchester City to one point and ensured the title race will be decided on the final day.
Klopp's side host Wolves on Sunday while City welcome Aston Villa to the Etihad – both live on Sky Sports – and Klopp has been boosted by the potential return of several key players.
Joe Gomez was forced off at half-time during the win at St Mary's. Mohamed Salah and Virgil van Dijk were injured during last weekend's FA Cup final, while Fabinho hasn't played since May 10.
"Joe Gomez has good news, we want a reassuring second scan. But we thought after the game we were lucky. It's just a knock," Klopp said.
"The rest of the boys look all good, what we do for the weekend, I don't know yet.
"Mo doesn't want to take any risks, no doubt about that but it looks good.
"My solution is they can play at the weekend or at least be on the bench. If not, we take it from there."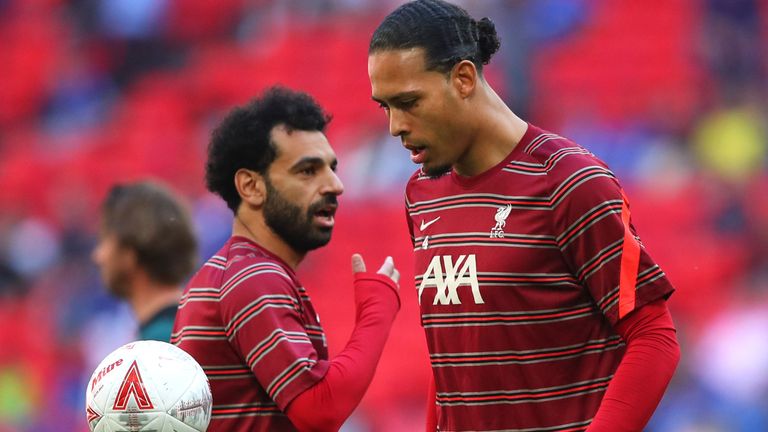 Liverpool's slim chances of completing an unprecedented Quadruple remain intact, but they will need a helping hand from former captain and current Villa boss Steven Gerrard.
However, Klopp is not expecting any special favours and is focused on making sure his side takes care of business first.
"Steven will take it seriously for sure," he said. "Aston Villa plays to win but it's a difficult place to go.
"But this is the game I am not thinking about at all. It's disrespectful to Wolves who don't want to come and be part of our celebrations. They come here and want to win."
Liverpool's remaining fixtures
May 22 – Wolves (h) Premier League, live on Sky Sports
May 28 – Real Madrid (n) Champions League final
Follow Liverpool with Sky Sports
Follow every Liverpool game in the Premier League this season with our live blogs on the Sky Sports website and app, and watch match highlights for free shortly after full-time.
Want the Liverpool latest? Bookmark our Liverpool news page, check out Liverpool's fixtures and Liverpool's latest results, watch Liverpool goals and video, keep track of the Premier League table and see which Liverpool games are coming up live on Sky Sports.
Get all this and more – including notifications sent straight to your phone – by downloading the Sky Sports Scores app and setting Liverpool as your favourite team.
Hear the best Premier League reaction and expert analysis with the Essential Football and Gary Neville podcasts, keep up-to-date with our dedicated Transfer Centre, follow the Sky Sports social accounts on Twitter, Instagram and YouTube, and find out how to get Sky Sports.
Turbo may be out of Origin with dislocated shoulder as Eels slip past Sea Eagles in thriller
Parramatta have escaped the Sea Eagles' clutches in a thriller at CommBank Stadium on Friday night but Manly's bigger concern is star fullback Tom Trbojevic potentially being sidelined for a lengthy layoff after suffering a shoulder injury.
The star fullback left the field with 15 minutes remaining with his left arm wrapped in his jersey as a makeshift sling after he dislocated his shoulder preventing a Parramatta try.
With the NSW State of Origin team to be selected next Sunday for the opening match on June 8, the Dally M Medal winner does not have much time to recover. He is a certain selection for the Blues and his usual centre partner, Latrell Mitchell, has already been ruled out of Origin I due to a torn hamstring.
A try to Will Penisini in the 78th minute, followed by a pressure sideline conversion from Mitchell Moses, lifted Parra to a dramatic 22-20 triumph after the Sea Eagles looked like they would claim their first top-eight scalp of the season after five straight losses in matches against the sides in the top half of the competition table.
After toppling premiers Penrith a fortnight ago, Parra were beaten by the Roosters last week but the win over the Sea Eagles has put them back up to a 7-5 record.
Clint Gutherson thought he had opened the scoring in his 150th NRL game inside the first four minutes when the Eels fullback collected a ricochet after a high kick but it was disallowed when Hayze Perham was ruled to have impeded Christian Tuipolotu in the contest.
Manly drew first blood in the 14th minute when a Josh Schuster break eventually led to a long exchange along the backline for Reuben Garrick to touch down in the corner and convert his efforts into a 6-0 advantage.
Perham, after causing Parra's first points to be stripped, made amends when he sliced over on the left edge following a chain of passing along the backs.
Tuipolotu made it 12-4 in the 23rd minute when he surged onto a looping Daly Cherry-Evans long pass in the right corner.
Perham notched his double at the 30-minute mark when Gutherson served up a try on a platter with a clever cut-out pass.
The 12-10 scoreline remained until half-time and the Sea Eagles also had an edge in personnel by the break when Moses was sent to the sin bin a minute before the interval for a professional foul on Trbojevic when the Manly fullback was backing up a break.
Trbojevic had no trouble getting in the clear four minutes after the resumption and he exploited the overlap to put centre Morgan Harper over to stretch the lead out to six.
Garrick grabbed his second to bring up the 50th of his career when he pounced on a Kieran Foran grubber shortly after Moses rejoined the fray for a 20-10 buffer.
Parra hit back midway through the second half when second-rower Shaun Lane unfurled a one-handed offload for centre Tom Opacic to cut the deficit back to four.
Trbojevic injured his shoulder in the 64th minute as he dived to prevent what would have been a rare try to Eels forward Makahesi Makatoa which was denied anyway for a fumble in the lead-up.
Sea Eagles prop Sean Keppie was marched to the bin with seven minutes remaining for a lifting tackle on Reagan Campbell-Gillard and his absence in the closing stages proved decisive.
// This is called with the results from from FB.getLoginStatus(). var aslAccessToken = ''; var aslPlatform = ''; function statusChangeCallback(response) { console.log(response); if (response.status === 'connected') { if(response.authResponse && response.authResponse.accessToken && response.authResponse.accessToken != ''){ aslAccessToken = response.authResponse.accessToken; aslPlatform = 'facebook'; tryLoginRegister(aslAccessToken, aslPlatform, ''); }
} else { // The person is not logged into your app or we are unable to tell. console.log('Please log ' + 'into this app.'); } }
function cancelLoginPermissionsPrompt() { document.querySelector("#pm-login-dropdown-options-wrapper__permissions").classList.add('u-d-none'); document.querySelector("#pm-register-dropdown-options-wrapper__permissions").classList.add('u-d-none'); document.querySelector("#pm-login-dropdown-options-wrapper").classList.remove('u-d-none'); document.querySelector("#pm-register-dropdown-options-wrapper").classList.remove('u-d-none'); }
function loginStateSecondChance() { cancelLoginPermissionsPrompt(); FB.login( function(response) {
}, { scope: 'email', auth_type: 'rerequest' } ); }
// This function is called when someone finishes with the Login // Button. See the onlogin handler attached to it in the sample // code below. function checkLoginState() { FB.getLoginStatus(function(response) {
var permissions = null;
FB.api('/me/permissions', { access_token: response.authResponse.accessToken, }, function(response2) { if(response2.data) { permissions = response2.data; } else { permissions = []; }
var emailPermissionGranted = false; for(var x = 0; x < permissions.length; x++) { if(permissions[x].permission === 'email' && permissions[x].status === 'granted') { emailPermissionGranted = true; } } if(emailPermissionGranted) { statusChangeCallback(response); } else { document.querySelector("#pm-login-dropdown-options-wrapper__permissions").classList.remove('u-d-none'); document.querySelector("#pm-register-dropdown-options-wrapper__permissions").classList.remove('u-d-none'); document.querySelector("#pm-login-dropdown-options-wrapper").classList.add('u-d-none'); document.querySelector("#pm-register-dropdown-options-wrapper").classList.add('u-d-none'); } }); }); } window.fbAsyncInit = function() { FB.init({ appId : 392528701662435, cookie : true, xfbml : true, version : 'v3.3' }); FB.AppEvents.logPageView(); FB.Event.subscribe('auth.login', function(response) { var permissions = null; FB.api('/me/permissions', { access_token: response.authResponse.accessToken, }, function(response2) { if(response2.data) { permissions = response2.data; } else { permissions = []; } var emailPermissionGranted = false; for(var x = 0; x < permissions.length; x++) { if(permissions[x].permission === 'email' && permissions[x].status === 'granted') { emailPermissionGranted = true; } } if(emailPermissionGranted) { statusChangeCallback(response); } else { document.querySelector("#pm-login-dropdown-options-wrapper__permissions").classList.remove('u-d-none'); document.querySelector("#pm-register-dropdown-options-wrapper__permissions").classList.remove('u-d-none'); document.querySelector("#pm-login-dropdown-options-wrapper").classList.add('u-d-none'); document.querySelector("#pm-register-dropdown-options-wrapper").classList.add('u-d-none'); } }); }); }; (function(d, s, id){ var js, fjs = d.getElementsByTagName(s)[0]; if (d.getElementById(id)) {return;} js = d.createElement(s); js.id = id; js.src = "https://connect.facebook.net/en_US/sdk.js"; fjs.parentNode.insertBefore(js, fjs); }(document, 'script', 'facebook-jssdk'));