What You Need To Know About Doping
Doping scandals erupt from time to time as soon as serious sports competitions begin. Why does this problem exist and when did it occur? In this article, we answer popular questions about doping.
If you use doping or somebody made you do that, better look for free rehab options at addictionresource.com. The professional doctors will give you a consultation, treatment plan, or even free addiction help. It's never too late to take care of your health, even if it's an addiction.
What is considered doping? What substances should not be used by professional athletes?
In sports, doping is the use of prohibited substances or methods that increase performance and/or reduce the feeling of fatigue and give a competitive advantage over rivals.
The list of banned substances is quite large. Every year, the World Anti-Doping Agency (WADA) publishes an updated and up-to-date list of banned drugs.
First of all, you should not use psychoactive substances (amphetamines, ephedra, cocaine, etc.), anabolic steroids (testosterone analogs), hormones and their synthetic analogs (erythropoietin, somatotropin), diuretics (ethacrynic acid, furosemide, coronatine, morphine, hydrochloride, hydrochloride) etc.) and a number of others. National anti-doping agencies in the countries and the athletes themselves should follow this list and its updates.
If we talk about methods, we are talking about blood doping (artificial introduction of blood, plasma or erythrocytes into the athlete's blood), including in the form of blood transfusions, intravenous infusions of glucose or other drugs (drips), conducted without permission.
When did the concept of doping come into play in sports, and was there any high-profile case that led to restrictions? Did it happen gradually?
Probably, the concept of doping is as old as the sport itself. Even during the Olympic Games in ancient Greece, athletes did not hesitate to use special stimulant drinks, and potions to gain an advantage over rivals. The term "doping" began to be used in the early twentieth century. on the illegal use of potent substances to improve the speed characteristics of racehorses. And strychnine, caffeine, cocaine and alcohol were often used by cyclists and other endurance sports in the 19th and early 20th centuries.
The anti-doping process has been gradual and has only recently become systematic. First, the dangers and negative effects on the body of many substances were not known until the twentieth century. Secondly, in addition to banning the use of certain substances, it was necessary to develop clear procedures for testing athletes for doping, as well as effective methods for detecting the banned substances in urine or blood. In 1928, the International Athletics Federation was the first to ban the use of a number of stimulants. However, testing for athletes' use of these substances began only in the late 1960s.
Unfortunately, this process was stimulated by the tragic deaths of athletes at world championships, Olympics or famous competitions, such as the Tour de France.
However, it should also be noted that in parallel with the fight against doping due to the risks to athletes' health, there has been a movement for pure sport in terms of respect for rules, competitors, fair play, a level playing field, and advocacy for the world. Thanks to this movement, the Council of Europe's Anti-Doping Convention was adopted in the late 1980s, and in 1999 the World Anti-Doping Agency, an independent non-governmental organization, was established. Later, in 2005, the UNESCO International Convention against Doping in Sport was adopted. In general, anti-doping programs are not just about detecting and punishing violators of anti-doping rules. Their main goal is to preserve the values of sport and its "spirit", which is important for the formation of a healthy society.
Can I become addicted to doping? Have there been such stories?
Psychoactive substances (amphetamines, cocaine) and narcotic analgesics (morphine, heroin) cause physiological dependence. But in many cases, the problem with doping is also psychological dependence, because the athlete who used it is afraid of not getting the desired result without doping.
There are a lot of paid or free substance abuse programs for sportsmen — google a list of free drug rehab centers near me, free drug guide, or talk to your couch. If your couch was the one who offered you doping, better call a free drug rehabilitation center right away. It's better to have a pause from professional sport, get treatment, and then get back to the big game than get caught at the championship and get disqualified forever.
What are the most common effects of doping on the body?
Of course, this will depend on what kind of doping was used. If we talk about anabolic steroids, most often they suppress the production of their own hormone testosterone, respectively, leading to impotence in men. In addition, the liver suffers and the risk of cardiovascular disease increases due to elevated cholesterol levels. Erythropoietin, common in cyclic sports Cyclic sports – sports in which the main feature is the repetition of the phases of movement that underlie each cycle (eg, swimming, rowing, cycling)., Increases blood viscosity, and therefore risks of thrombosis. The use of psychoactive substances can affect the functions of the cardiovascular system, and the work of the psyche increases the risk of stroke. The use of diuretics is kidney problems, dehydration, and convulsions.
In fact, it is because of the dangerous side effects and negative consequences for the body in the long run and began the movement to ban certain drugs, creating a system of testing athletes for doping. Even if you don't touch the ethical component, in most cases, banned substances can have a short-term effect, but they will bring much more health problems.
Fernandez happy to overcome 'football match' crowd in win over Mladenovic
Filipino-Canadian Leylah Fernandez learned first-hand how loud the crowd at Roland Garros can be when she triumphed over local hope Kristina Mladenovic in the French Open first round on Sunday.
Last year's U.S. Open finalist dominated Mladenovic in a 6-0 7-5 clash, despite the noisy support of the Parisian public for their favourite.
"Honestly it was very difficult but I'm very happy that I was able to play against such a crowd, because I always had the dream of having a crowd against myself," Fernandez told a news conference.
"Having that experience of the French crowd that was chanting, shouting, it was a great experience, like a football match.
"I just tried to think about my game and to have fun on the court because it's not every day you have such an atmosphere. I'm very happy to have lived such a match."
The 19-year-old will face four-time Grand Slam doubles champion Katerina Siniakova in the second round on Wednesday.
gsg
Get the hottest sports news straight into your inbox
Read Next
Subscribe to INQUIRER PLUS to get access to The Philippine Daily Inquirer & other 70+ titles, share up to 5 gadgets, listen to the news, download as early as 4am & share articles on social media. Call 896 6000.
Candace Parker's triple-double leads Chicago over Washington
WASHINGTON — Candace Parker finished with her second career triple-double and the Chicago Sky pulled away in the second half to beat the Washington Mystics 82-73 on Sunday.
Parker totaled 16 points, 13 rebounds and picked up a 10th assist on a basket by Allie Quigley with 21.2 seconds remaining.
It was the 11th triple-double in WNBA history. Parker joins Sheryl Swoopes and Courtney Vandersloot as the only three players to accomplish the feat twice.
Parker was the sixth player to post a triple-double when she pulled it off in 2017 against the San Antonio Stars. Sabrina Ionescu of the New York Liberty was the last to record a triple-double, accomplishing the feat in May of 2021 against the Minnesota Lynx.
Azura Stevens scored 13 off the bench for Chicago (3-2). Quigley and Kahleah Copper added 12 points apiece, while Emma Meesseman and reserve Rebekah Gardner scored 11.
Ariel Atkins had 20 points to lead Washington (5-2).
SUN 92, FEVER 70
INDIANAPOLIS (AP) — Alyssa Thomas and Brionna Jones scored 18 points each and the Connecticut Sun breezed to a victory over the Fever.
Thomas added six rebounds and six assists for Connecticut (4-1), which jumped out to a 26-15 lead after the first quarter and never looked back. Courtney Williams scored 15 and Jonquel Jones pitched in with 13 points and nine boards.
Victoria Vivians topped Indiana (2-6) with 15 points, while Emily Engstler scored 11 with eight rebounds.
Maple Leafs sign defenseman Mark Giordano to two-year, $1.6M extension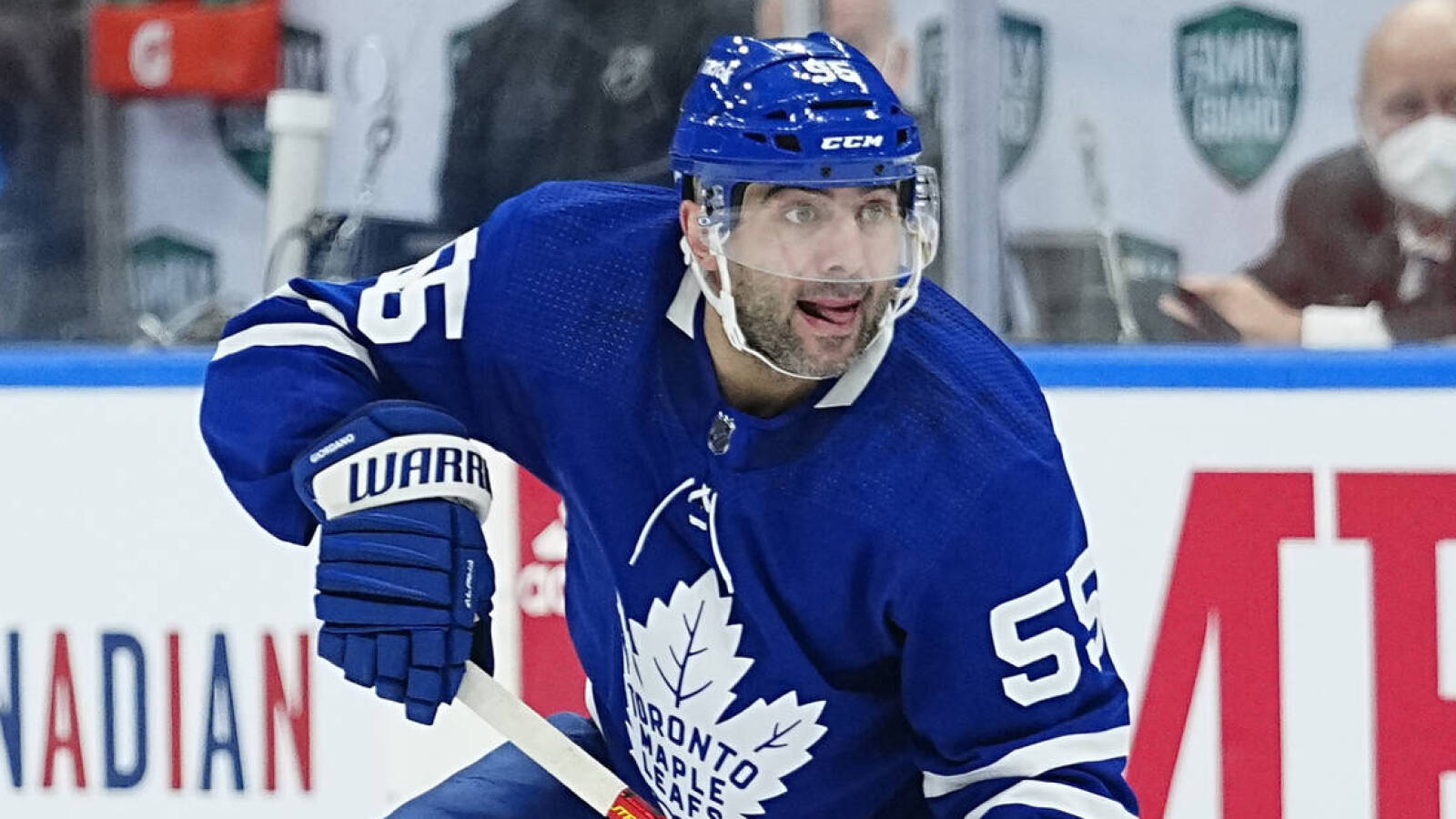 The Toronto Maple Leafs have signed an extremely team-friendly extension with defenseman Mark Giordano, paying him $800,000 per season for two years.
Toronto acquired Giordano, the 2019 Norris Trophy winner, at the 2022 trade deadline from the Seattle Kraken. The first captain in Kraken history had new life breathed into his game upon joining Toronto. While he saw more limited ice time, the ageing defenseman showed that he could get back to his elite game given less pressure and minutes. Averaging under 20 minutes per game in Toronto for the first time since 2009, Giordano had a very respectable 12 points in 20 regular-season contests. He added on two assists in seven playoff games.
While broken up in the playoffs, he and Timothy Liljegren looked absolutely spectacular for Toronto post-deadline. With similar playing styles, Giordano seemed to be the appropriate mentor for the young Liljegren. It's hard to imagine that they won't see some more time together in 2022-23.
The 50-plus-point seasons of yore certainly aren't in the cards for Giordano moving forward. However, he's shown the ability over the past few seasons to maintain his defensive game even as his point totals fall. He's still much more valuable than a standard seventh defenseman, immediately making his contract a steal. If he's able to maintain that level of defensive play or even just limit its decline, this becomes an extremely valuable signing to add defensive depth on the left side while Rasmus Sandin continues to develop his game.
Giordano was also the recipient of the 2020 Mark Messier Leadership Award, evidencing his long-standing reputation of being a strong voice in the room. Over 1,024 career games, the 6-foot-1, 200-pund defenseman has 151 goals, 393 assists and 544 points.
Sportsnet's Elliotte Friedman was first to report the deal.