How to Add a Shared Google Drive to Windows File Explorer
If you and your team or coworkers use a shared Google Drive, you may want quick and easy access to it. In just a few minutes, you can add this shared drive to File Explorer on Windows.
This is a convenient option because it eliminates the need to open your browser, sign in to Google Drive, and navigate to the item in the shared drive that you need. Just pop open File Explorer and go.
Note: As of May 2022, shared drives are available to Google Workspace accounts including Business Standard and Plus, Enterprise, Education Fundamentals, Teaching & Learning Upgrade, Standard, and Plus, Nonprofits, and G Suite Business; Essentials.
Download and Install Google Drive for Desktop
The first step in accessing your shared drive on Windows is to download the application. Visit the Google Drive for Desktop site and click "Download Drive for Desktop" which should automatically detect your platform.
Access your downloads via the folder or toolbar for the browser you're using and open the GoogleDriveSetup.exe file.
When prompted, click "Yes" to allow Windows to run the installer for Google Drive on your computer. 
You'll then be asked if you want to add an application shortcut to your desktop or shortcuts for Google Docs, Sheets, and Slides. Check the boxes per your preference and click "Install."
When the process finishes, you'll see a prompt to sign in. This is necessary to connect your Google account to the application. Click "Sign in With Browser."
Select and sign in to the Google account you want to use or add another account if you don't see the correct one in the list. 
Next, you'll receive a message with three statements that you should confirm for your safety. When you're ready, click "Sign in."
Upon successfully logging into your account, you'll see a message of such in your browser. You can then close that browser tab or window.
You'll also see a pop-up confirmation message from the Google Drive application. Click "Close" to acknowledge and continue.
Additionally, you may notice a smaller alert that Google Drive is loading your files. If so, you can click "OK" to acknowledge and close the notification.
Open Google Drive in File Explorer
You can then open File Explorer on Windows as you normally would. You'll see Google Drive listed on the left below This PC by default. You can expand Google Drive to display My Drive and Shared Drives. Select "Shared Drives" to view your items.
If you opted to place the Google Drive icon on your desktop, you can double-click it as an alternative. This will open File Explorer with Google Drive selected for you.
RELATED: How to Open File Explorer on Windows 11
Adjust Your Google Drive Preferences
Once you install Google Drive for desktop, you can make adjustments to the preferences if you like. This includes changing the drive, mirroring files versus streaming, launching on system startup, adding another Google account, and more.
Open your System Tray and select the Google Drive icon. Click the gear icon and pick "Preferences."
Choose "Google Drive" on the left to see the first set of settings. For more, click the gear icon on the top right.
Make the changes you want and click "Done."
Allow Offline Access to Shared Drive Files
If you have particular files in your shared Google Drive that you want available for offline access, it takes just a couple of clicks.
RELATED: How to Use Google Docs Offline
Open Google Drive in File Explorer and select "Shared Drives" to view your items. Right-click an item, move your cursor to Offline Access, and pick "Available Offline" in the pop-out menu to put a checkmark next to it.
Having Google Drive right on your desktop is handy for those who use it regularly. So, being able to see that drive in File Explorer makes it even better.
How to watch AMD, Nvidia, and Microsoft's Computex 2022 keynotes
Computex is just hours away and will feature keynotes from some of the biggest names in tech, including AMD, Nvidia, and Microsoft. There will almost certainly be some exciting announcements from each brand, but since Computex takes place in Taipei, Taiwan, the keynotes don't occur at the most convenient times (at least for those of us in North America).
Microsoft and AMD's keynotes will have you staying up into the wee hours of the morning tonight, while Nvidia's keynote doesn't take place until late tomorrow evening. Here's how and when to tune into each keynote:
How to watch AMD's keynote
AMD CEO Lisa Su is set to speak in a keynote titled "AMD Advancing the High-Performance Computing Experience," which is set to highlight AMD's latest innovations in laptop and desktop performance. The chip company is rumored to reveal Ryzen 7000 series desktop CPUs that use the new Zen 4 core architecture, as well as its X670E, X670, and B650 motherboards that support the next-gen AM5 platform.
You can watch the keynote on YouTube when it goes live early tomorrow morning on Monday, May 23rd at 2AM ET, 11PM PT, or 2PM local time in Taipei. If you're unsure what time that is for where you live, you can check out this handy time conversion chart AMD posted to Twitter.
How to watch Nvidia's keynote
Nvidia's keynote will feature six different speakers, including Ian Buck, the company's vice president of accelerated computing; Jeff Fisher, the senior vice president of GeForce; and Michael Kagan, the CTO of Nvidia. The keynote is set to cover a range of topics, such as accelerated computing, gaming, content creation, and data center solutions.
You can watch the keynote from Nvidia's YouTube livestream tomorrow night, May 23rd at 11PM ET / 8PM PT, or 11AM on local Taipei time.
How to watch Microsoft's keynote
Microsoft's keynote includes a talk from Panos Panay, the chief product officer behind Windows and Microsoft Surface devices, as well as Nicole Dezen, Microsoft's corporate vice president. The keynote is simply titled "A Conversation About Windows 11 with Panos Panay and Nicole Dezen."
You can watch the 30-minute keynote from YouTube early tomorrow morning on May 23rd at 3:30AM ET / 12:30AM PT, or 3:30PM local time in Taipei.
Paytm, whose share price has dropped 57% so far this year, reports Q4 revenue of ~$200M, up 89% YoY, and a net loss of ~$98M, up 72% YoY due to higher expenses (Reuters)
Reuters:

Paytm, whose share price has dropped 57% so far this year, reports Q4 revenue of ~$200M, up 89% YoY, and a net loss of ~$98M, up 72% YoY due to higher expenses — India's One 97 Communications Ltd (PAYT.NS), the parent of fintech firm Paytm, on Friday reported a wider fourth-quarter loss due …
Doctor Strange 2 Surpasses 800 Million at the Box Office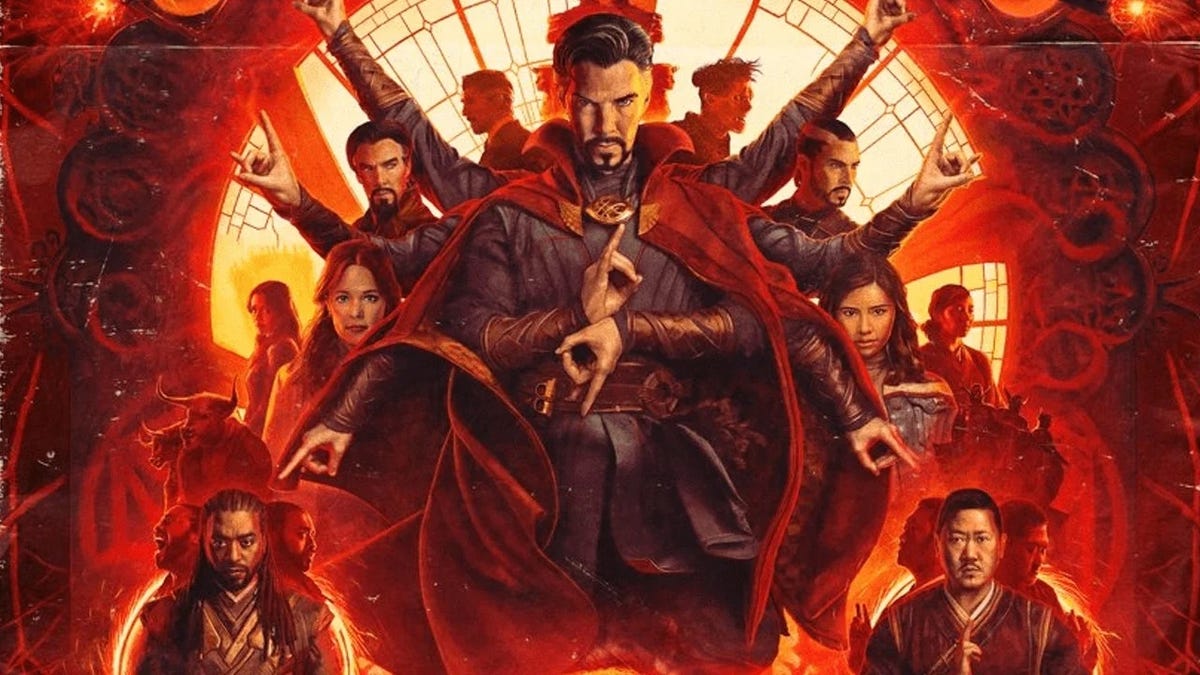 As the weekend winds down, news has come out from The Wrap that Doctor Strange in the Multiverse of Madness, directed by Sam Raimi, has earned over 800 million dollars officially passing The Batman's theatrical runs, the last big superhero flick to hit the theaters. Doctor Strange 2 is still a decent chunk of change away from the last Marvel outing–Spider-Man: No Way Home earned 1.89 billion dollars during its release.
The Northman continues to draw audiences, although its release to VOD has made it so that there will likely be little more movement after this weekend. To date the Robert Eggers-directed historical action film earned about 64 million. The film stars Alexander Skarsgård and Anya Taylor-Joy as they attempt to seek revenge and escape the clutches of a dismal fate.
This weekend also saw the first returns for Downton Abbey: A New Era, which brought in 16 million after its opening weekend. Universal Pictures, a specialty production from Universal Studios, released the sequel to 2019's Downton Abbey, which in turn was a follow-up to the hit television series that ran from 2010 to 2015 and became an international phenomenon. The show follows the aristocratic Crawley family and their domestic help across six seasons and fifty-two episodes.
Alex Garland's horror film of "toxic masculinity," aptly titled Men, had a solid opening weekend as well (Entertainment Weekly). While 3.3 million might seem modest compared to the big releases, the film is a challenging and divisive watch distributed by the indie darling A24. For a better comparison we can look at the opening numbers for Everything Everywhere All at Once, another A24-distributed film, which netted 3.2 million on its opening weekend.
---
Want more io9 news? Check out when to expect the latest Marvel and Star Wars releases, what's next for the DC Universe on film and TV, and everything you need to know about House of the Dragon and Lord of the Rings: The Rings of Power.
G/O Media may get a commission
Save $70
Apple AirPods Max
Experience Next-Level Sound
Spatial audio with dynamic head tracking provides theater-like sound that surrounds you