More People Should Watch This Sci-Fi Masterpiece on Prime Video
Fair warning: I am about gush about The Expanse. But before I do, let's run through a laundry list of things that are not good about The Expanse.
The acting is frequently off, sometimes flat-out bizarre.
The dialogue is regularly stilted and unnatural.
Despite having to do a lot of heavy lifting, the CGI can feel creaky and low budget.
Literally every decision made by Detective Miller (played by Thomas Jane) makes zero sense.
Thomas Jane's hat. A terrible hat. Maybe the worst TV hat ever hatted.
See also: Thomas Jane's haircut.
Whenever I go full hog trying to convince someone to watch The Expanse, I like to get this list out of the way. I want people to know from the outset: This TV show is not perfect. In fact, depending on what you value in your television, you could even call The Expanse "bad."
I do not think The Expanse is bad.
On the contrary, I think The Expanse is very good. Often it's good in spite of its flaws. Sometimes it's enhanced by those flaws.
Set hundreds of years in the future when humans are spread out across the solar system, The Expanse is based on a series of hard sci-fi novels written by Daniel Abraham and Ty Franck under the pen name James S.A. Corey. It is dense with peerless universe building. It's a show about the very real perils of space travel and colonization, but also a surprisingly nuanced show that deals in interplanetary politics and class warfare. 
In one corner we have Earth and all its citizens. In the other, Mars. The humans who have colonized Mars are a military-focused, tough group of people prone to resolving conflict with force. Those still on Earth are the preening, politically savvy elite. 
The wild cards are the Belters, residents of outer planets and asteroid belts who have developed their own Creole-esque language and, alongside that, a culture completely separate from the humans on Earth and Mars. Sick of being trampled upon by the "Earthers," the Belters are threatening revolution, but lack the power or resources to truly strike back at their oppressors. 
Everything that occurs in The Expanse stems from the tensions between these three discrete groups.
The magic of The Expanse is how effortlessly the show flits between genres. It's hard sci-fi at all times, but in its first couple of seasons, The Expanse plays out like a murder mystery. Later, it's a show about alien technology and the arms race associated with that. Then it becomes a show about exploring strange new planets. Ultimately, The Expanse is a show about all these things, but places its uniquely crafted universe at its core, giving it a through line lesser sci-fi shows don't have.
The show's aesthetic plays a similar trick. Not everyone enjoys its metallic, video-game-esque color scheme, but I like video games, so I'm a fan. The Expanse feels like how I think a Mass Effect show could feel, if that ever comes to fruition and is somehow decent. The Expanse is cool, clinical and smart — and sometimes the wooden performances amplify that in ways that should be bad, but often feels good? In a universe that lacks warmth, dialed back, minimalist performances make sense. 
Yeah, I'm confused too. But it works.
Ultimately, The Expanse is a show that will never disappoint you. Much like Dark — for my money the best show on Netflix — The Expanse is now fully complete and, unlike most sci-fi shows, defied the odds and finished well. Some of its six seasons are better than others, but The Expanse is incredibly consistent. You'll be shocked by how much ground it covers and how seamlessly it moves from one civilization-altering crisis to the next. 
It's funny, but almost everyone I know who watches The Expanse, including myself, loves to complain about it. They'll complain about the clunky dialogue and the strange performances, but there's nothing else like it. It's a show that's stubbornly carried by its strengths, to levels of quality it has no right attaining. You owe it to yourself to watch, if only to create your own list of things in The Expanse that annoy you.
Just make sure that list includes Thomas Jane's hat. Unforgivable.
2022's Best TV Shows You Can't Miss on Netflix, HBO, Disney Plus and More
See all photos

Apple's Next Trick: Letting You Borrow Cables From Android Friends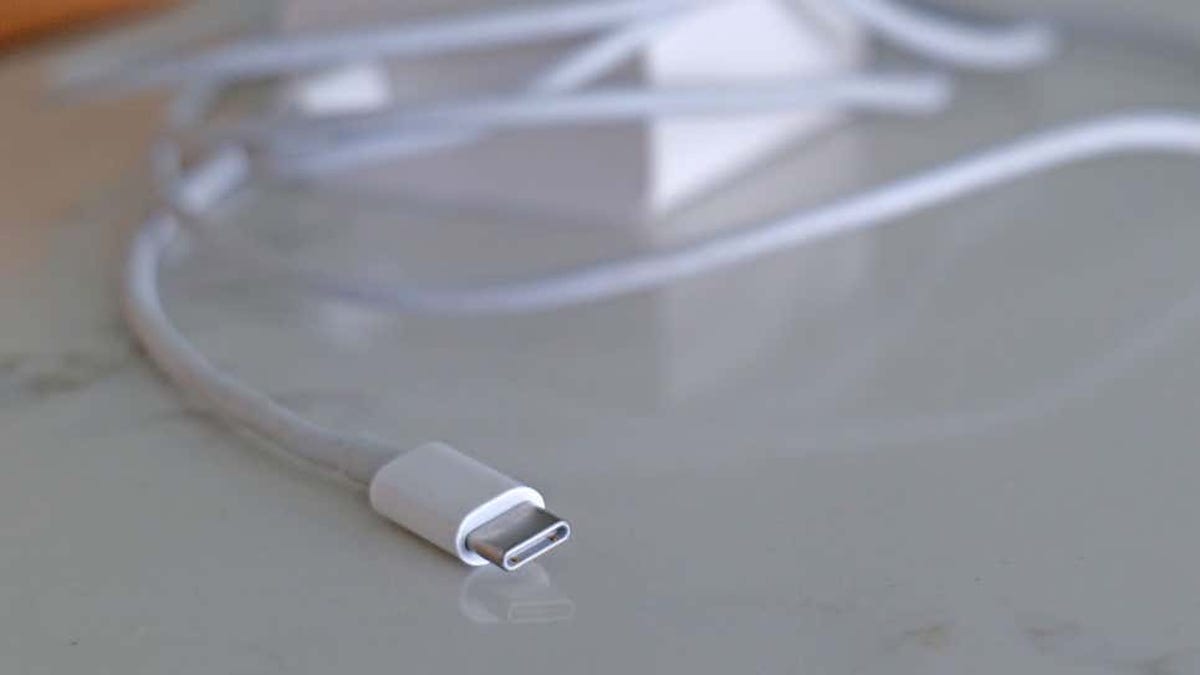 It might not seem like the needle-moving announcement that Apple would make. But thanks to a news bit from a trusted analyst, there's hope on the horizon that someday soon, Apple iPhones and Android smartphones will stop being separated—by charging cables, at least. (Don't expect any parity on messaging any time soon!)
This week on Gadgettes, we dive into the most recent Apple leaks. With WWDC 2022 fast approaching, we figured it'd be an appropriate time to round up some of what we've heard in the rumor mill.
In addition to the USB-C tidbit, there's chatter about everything from what the Apple Watch Series 8 will be capable of to whether iOS 16 will see much of a significant bump. We'll also get into some of the patents revealed over the past few weeks, including a Surface Pro-like keyboard for the iPad and a foldable iPhone with a color E Ink display.
Then, Sony does it again, grooving into our hearts with its new WH-1000XM5 headphones. The model name doesn't quite roll off the tongue, but you won't care once you realize these are some of the best headphones money can buy. We'll talk about why these headphones are worth their $400 price point. We'll also get into the caveats of headphones like these and why the WH-1000XM5's new folding mechanism might make you go for the last-generation model.
Finally, we'll defend printers. We'll explain why you might consider springing for an all-in-one printer for your at-home print shop. The compact HP Deskjet 6700 is an all-in-one that comes in a few colors and pairs rather nicely with the Amazon Basics laminator if you need to make reusable worksheets! HP also offers Instant Ink, which ships you ink cartridges so that you don't have to worry about securing more when they run out.
G/O Media may get a commission
Save $70
Apple AirPods Max
Experience Next-Level Sound
Spatial audio with dynamic head tracking provides theater-like sound that surrounds you
Listen to this week's episode of Gadgettes on Apple Podcasts, Spotify, or wherever you get your podcasts.
Chromebook 101: how to change your Chrome OS channels and get unreleased features
You might not know it from glancing at a Chromebook, but Google's Chrome OS is in a constant state of evolution.
The operating system receives minor updates every two to three weeks and major releases every six weeks. And, at any given moment, Google's staff is working on features and software enhancements that most people won't see for a matter of weeks — or months.
Here's a little secret, though: if you're feeling adventurous, you can gain access to those unreleased enhancements. All it takes is the flip of a virtual switch in your Chromebook's settings, and you'll have all sorts of interesting new options at your fingertips.
First, it's important to understand exactly what's involved so you can make an educated decision about which setup makes the most sense for you.
Understanding the Chrome OS channels
Chrome OS actually exists in four separate development channels. The software you see on your Chromebook varies considerably depending on which channel you choose:
The Stable channel is the polished and ready for prime time version of the software that all devices use by default.
The Beta channel is updated weekly and receives new features about a month ahead of its Stable sibling.
The Developer channel is updated as frequently as twice a week and sees stuff that's actively being worked on and has undergone only a small amount of testing.
Finally, the Canary channel is what Google describes as the "bleeding edge" Chrome OS path — a channel that receives daily updates prior to any widespread testing and can be accessed only by a Chromebook that's switched into a special developer mode (which, somewhat confusingly, has nothing to do with the Developer channel).
The Stable channel is the safest option and what the vast majority of people should use — particularly those who need to know their computers will always work flawlessly without any hiccups or unexpected glitches.
If you're feeling adventurous and don't mind a bit of a risk, the Beta channel is a good way to get a peek at unreleased features without too much instability. The odds of running into something funky are certainly higher than with Stable, but, by and large, elements in Beta are fairly well-developed and just in the final phases of testing.
Most day-to-day users would be well advised to stay away from the Developer channel since it receives updates as they're built and is quite likely to contain bugs. And, as for the Canary channel, if you're not sure whether you ought to be using it, the answer is probably no.
Changing your Chrome OS channel
Once you've decided which channel you want to try, here's how to make the switch:
Open your Chromebook's settings.
Click About Chrome OS in the menu on the left, then click Additional details.
Look for the category Channel and click the Change channel button. That'll cause a pop-up to appear that lets you select the Stable, Beta, or Developer channel. (Canary, remember, is available only if your device is in Developer mode — a level of access that opens the door to more advanced forms of OS modification but also disables some of the software's standard layers of protection. It requires several extra steps to enable and, again, isn't advisable for most Chromebook users.)
Click the channel you want, then click the blue Change channel confirmation button that appears.
Click the left-facing arrow at the top of the screen to get back to the About Chrome OS page. When you see the Restart button appear near the top of the page (it may take a minute or two), click it.
And that's it: as soon as your Chromebook finishes restarting, you'll be on your new channel with all your accounts, files, and preferences in place just like you left them.
If you ever decide you want to move back to the Stable channel, repeat that same process and select Stable.
Just note that moving in that direction — from a higher channel to a less experimental one — generally requires you to Powerwash your Chromebook. Powerwash means all of your information and data will be erased, and you'll have to sign in anew and start over.
The one exception: if your Chromebook is connected to a work- or school-based G Suite account, your data won't be deleted and the change won't take place immediately. Instead, you'll have to wait until the lower channel catches up to the higher one in version number, which could take anywhere from a few weeks to a few months.
Update May 20th, 2022, 9:30AM ET: This article was originally published on October 15th, 2019, and has been updated to account for changes in the OS.
Qualcomm updates its AR Smart Viewer reference design with a higher-powered chipset, a wireless tethering system with Wi-Fi 6 / 6E and Bluetooth, and more (Adi Robertson/The Verge)
Adi Robertson / The Verge:

Qualcomm updates its AR Smart Viewer reference design with a higher-powered chipset, a wireless tethering system with Wi-Fi 6 / 6E and Bluetooth, and more — But don't expect much battery life — Qualcomm is introducing a wireless version of its augmented reality Smart Viewer …