A few days ago, I recommended that Tim O'Reilly invite someone to our next FOO Camp. I thought she had been to a prior FOO event, though I didn't meet her there; I'd had a prior conversation with her about data governance (I think), and gotten on her mailing list, which reminded me that she was doing very interesting work. I don't remember who introduced us, except that it was someone who had met her at the earlier FOO event.
That may sound convoluted. That's the point. This is a very human web. It's a very small window onto a web of introductions. At the start of almost every FOO camp, Tim says that FOO is about "creating synapses in the global brain." He's said many times that he sees his function as introducing people who should know each other. That web of connections—what we used to call the "social graph"—is very broad. It eventually includes all 7+ billion of us. And again, it is intensely human. It's Web0.

Learn faster. Dig deeper. See farther.

It's necessary to remind ourselves of that when we talk about Web3. Web3 will succeed, or fail, to the extent that it solves human problems, to the extent that it makes navigating Web0 more tractable—not to the extent that it monetizes everything conceivable, or enables a small number of people to make a financial killing. Making it possible for artists to earn a living is solving a human problem (though we won't know whether NFTs actually do that until we're past the initial bubble). Using links that incorporate history to build communities of people who care about the same things, as Chris Anderson suggests, is solving a human problem.
Once we realize that, Web3 isn't all that different from the earlier generations of the web. Facebook succeeded because it solved a human problem: People want to associate, to congregate. Facebook may have been a poor solution (it certainly became a poor solution after it decided to prioritize "engagement"), but it was a solution. Google succeeded because it solved a different human problem: finding information. The world's information was radically decentralized, stored in millions of books and websites. At O'Reilly, we made one of the first attempts to manage that rapidly growing mess, but our solution, publishing The Whole Internet and creating a web portal (the industry's first) based on it, couldn't scale the way Google did five years later. As Larry Page and Sergey Brin discovered, organizing the world's information was about computing the tree of relationships dynamically. Like Facebook, Google has become less useful over time, as it seems to have compromised its results to "maximize shareholder value." I would certainly prefer burying monopolies to praising them. But it's important to think carefully about what they do well. Google and Facebook, like AT&T before them, succeeded because they solved problems that people cared about solving. Their solutions had real lasting value.
Cryptocurrency provides a cautionary tale. Blockchains may be a brilliant solution to the problem of double-spending. But double spending is a problem very few people have, while theft and other financial crimes on the blockchain are growing every day. (Given the rate at which cryptocurrency crime is growing, perhaps we should be glad that double-spend isn't just another problem on the very long list.) The catalog of failed startups is full of businesses with ideas that were very cool, but didn't actually solve problems that people care about, or didn't think through the new problems that they would create. As technologists, we're unfortunately addicted to the cool and the clever.
Can Web3 make Web0, the web of human interconnections and interests, more manageable? Can it solve human problems, not just abstract computational problems, and do so without creating more problems of its own? Can it help us build new synapses in the human brain, or will it just connect us to people who infuriate us?  That's the challenge Web3 faces. I think it can meet that challenge; but doing so will require developers to understand that blockchains, NFTs, Dapps, and so on are the means, not the ends. They're the components, not the finished product.
How to watch AMD, Nvidia, and Microsoft's Computex 2022 keynotes
Computex is just hours away and will feature keynotes from some of the biggest names in tech, including AMD, Nvidia, and Microsoft. There will almost certainly be some exciting announcements from each brand, but since Computex takes place in Taipei, Taiwan, the keynotes don't occur at the most convenient times (at least for those of us in North America).
Microsoft and AMD's keynotes will have you staying up into the wee hours of the morning tonight, while Nvidia's keynote doesn't take place until late tomorrow evening. Here's how and when to tune into each keynote:
How to watch AMD's keynote
AMD CEO Lisa Su is set to speak in a keynote titled "AMD Advancing the High-Performance Computing Experience," which is set to highlight AMD's latest innovations in laptop and desktop performance. The chip company is rumored to reveal Ryzen 7000 series desktop CPUs that use the new Zen 4 core architecture, as well as its X670E, X670, and B650 motherboards that support the next-gen AM5 platform.
You can watch the keynote on YouTube when it goes live early tomorrow morning on Monday, May 23rd at 2AM ET, 11PM PT, or 2PM local time in Taipei. If you're unsure what time that is for where you live, you can check out this handy time conversion chart AMD posted to Twitter.
How to watch Nvidia's keynote
Nvidia's keynote will feature six different speakers, including Ian Buck, the company's vice president of accelerated computing; Jeff Fisher, the senior vice president of GeForce; and Michael Kagan, the CTO of Nvidia. The keynote is set to cover a range of topics, such as accelerated computing, gaming, content creation, and data center solutions.
You can watch the keynote from Nvidia's YouTube livestream tomorrow night, May 23rd at 11PM ET / 8PM PT, or 11AM on local Taipei time.
How to watch Microsoft's keynote
Microsoft's keynote includes a talk from Panos Panay, the chief product officer behind Windows and Microsoft Surface devices, as well as Nicole Dezen, Microsoft's corporate vice president. The keynote is simply titled "A Conversation About Windows 11 with Panos Panay and Nicole Dezen."
You can watch the 30-minute keynote from YouTube early tomorrow morning on May 23rd at 3:30AM ET / 12:30AM PT, or 3:30PM local time in Taipei.
Paytm, whose share price has dropped 57% so far this year, reports Q4 revenue of ~$200M, up 89% YoY, and a net loss of ~$98M, up 72% YoY due to higher expenses (Reuters)
Reuters:

Paytm, whose share price has dropped 57% so far this year, reports Q4 revenue of ~$200M, up 89% YoY, and a net loss of ~$98M, up 72% YoY due to higher expenses — India's One 97 Communications Ltd (PAYT.NS), the parent of fintech firm Paytm, on Friday reported a wider fourth-quarter loss due …
Doctor Strange 2 Surpasses 800 Million at the Box Office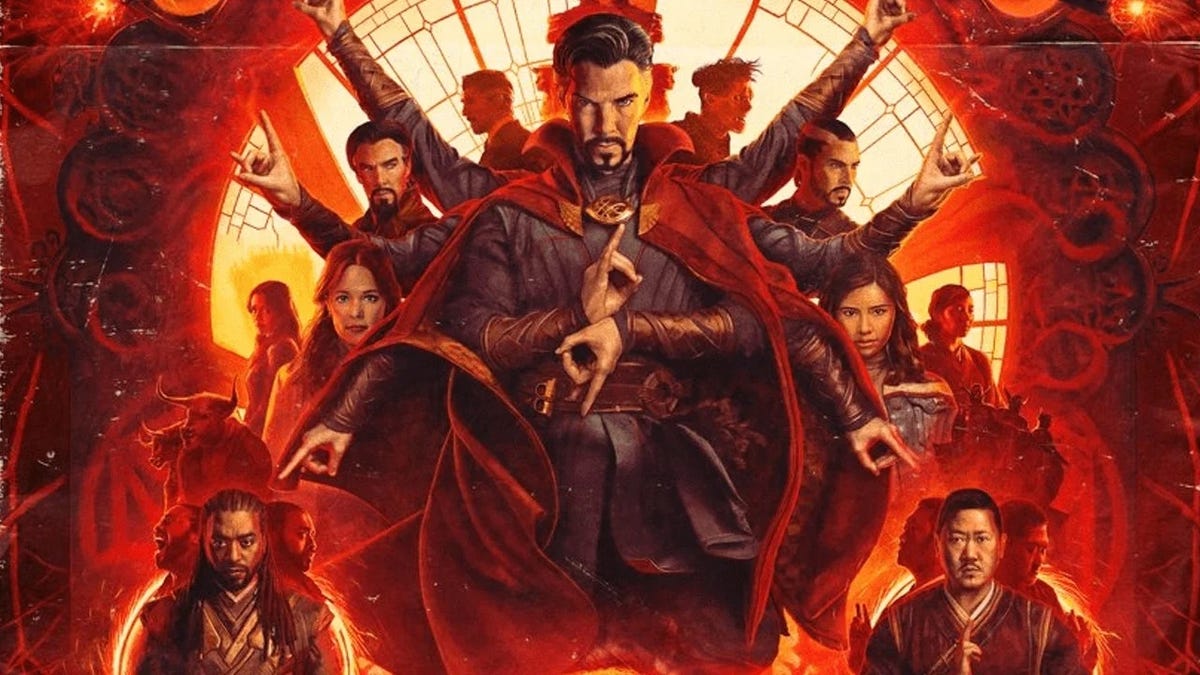 As the weekend winds down, news has come out from The Wrap that Doctor Strange in the Multiverse of Madness, directed by Sam Raimi, has earned over 800 million dollars officially passing The Batman's theatrical runs, the last big superhero flick to hit the theaters. Doctor Strange 2 is still a decent chunk of change away from the last Marvel outing–Spider-Man: No Way Home earned 1.89 billion dollars during its release.
The Northman continues to draw audiences, although its release to VOD has made it so that there will likely be little more movement after this weekend. To date the Robert Eggers-directed historical action film earned about 64 million. The film stars Alexander Skarsgård and Anya Taylor-Joy as they attempt to seek revenge and escape the clutches of a dismal fate.
This weekend also saw the first returns for Downton Abbey: A New Era, which brought in 16 million after its opening weekend. Universal Pictures, a specialty production from Universal Studios, released the sequel to 2019's Downton Abbey, which in turn was a follow-up to the hit television series that ran from 2010 to 2015 and became an international phenomenon. The show follows the aristocratic Crawley family and their domestic help across six seasons and fifty-two episodes.
Alex Garland's horror film of "toxic masculinity," aptly titled Men, had a solid opening weekend as well (Entertainment Weekly). While 3.3 million might seem modest compared to the big releases, the film is a challenging and divisive watch distributed by the indie darling A24. For a better comparison we can look at the opening numbers for Everything Everywhere All at Once, another A24-distributed film, which netted 3.2 million on its opening weekend.
---
Want more io9 news? Check out when to expect the latest Marvel and Star Wars releases, what's next for the DC Universe on film and TV, and everything you need to know about House of the Dragon and Lord of the Rings: The Rings of Power.
G/O Media may get a commission
Save $70
Apple AirPods Max
Experience Next-Level Sound
Spatial audio with dynamic head tracking provides theater-like sound that surrounds you